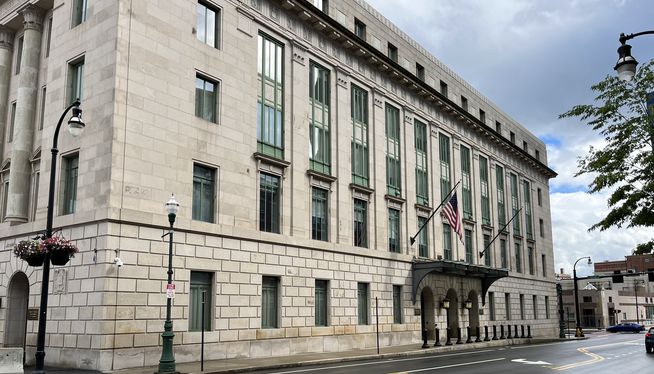 WORCESTER, Mass. (AP) — A man and woman accused of operating a commercial sex ring with wealthy and prominent clients in Massachusetts and the Washington, D.C., suburbs appeared in court Monday. But a hearing on whether they should remain behind bars while they await trial was delayed until next week.
Junmyung Lee, of Dedham, Massachusetts, and Han Lee, of Cambridge, Massachusetts, were handcuffed as they walked into the courtroom in Worcester, Massachusetts. They answered yes and no questions from the judge about whether they understood that they were waiving their right to a preliminary hearing but otherwise did not speak.
U.S. Magistrate Judge David Hennessy scheduled a detention hearing for Nov. 22.
They were arrested last week when investigators busted the network of brothels in Massachusetts and northern Virginia that authorities say brought in hundreds of thousands of dollars for the operators. Acting Massachusetts U.S. Attorney Josh Levy said those who bought sex services include politicians, military officers and government contractors with security clearances.
None of the clients have been charged, and authorities have not publicly named any of them. But the U.S. attorney has stressed that the investigation is in the early stages and said that prosecutors are committed to holding accountable both those who ran the scheme and those who "fueled the demand for this ring."
An attorney for Junmyung Lee declined to comment after the hearing, and Han Lee's lawyer declined to comment last week. A third person charged in the case, James Lee, was arrested in California and has yet to appear in court in Massachusetts. A judge in California ordered James Lee to remain behind bars while he awaits trial, the prosecutors' office said.
Authorities say the operation was run using websites that falsely claimed to advertise nude Asian models for professional photography. They are accused of renting high-end apartments to use as brothels in Watertown and Cambridge, Massachusetts, and Tysons and Fairfax, Virginia.
Levy said buyers paid upward of $600 per hour for services and some even paid a monthly membership fee to be pre-cleared for sex in a process similar to TSA PreCheck, Levy said.