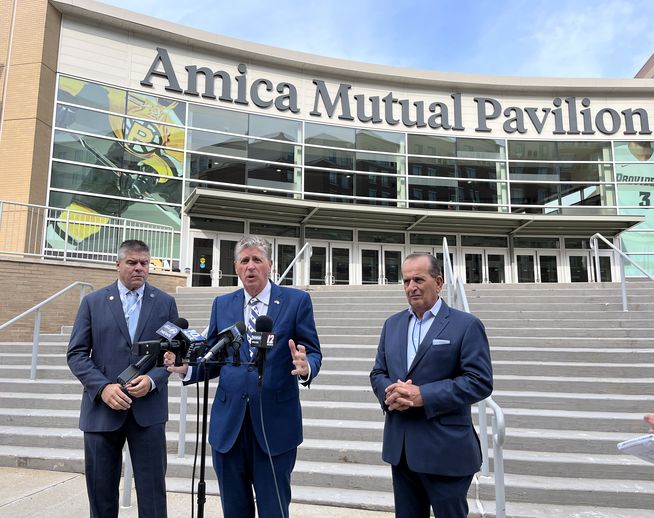 By Steve Klamkin WPRO News
A summer-long overhaul of the Amica Mutual Pavilion in Providence is nearing completion, and Governor Dan McKee led reporters on a tour to highlight technology upgrades, 400 additional seats and a new roof on the arena popularly known as "The AMP".
The improvements were an offshoot of a February, 2022 basketball game between Providence College and Xavier University that went to triple-overtime, but was delayed by water dripping on the court due to leaks in the roof.
"That was a national(ally televised) game," said McKee, who was in attendance that night. "And, when I saw that this is not what we want people to see on a national level. We want people to understand that Rhode Island is really taking care of its facilities and making sure that we're putting our best foot forward."
The most important improvement is the new roof, said Larry Lepore, General Manager for both the Amica Mutual Pavilion and adjacent Rhode Island Convention Center, where are both owned by the state of Rhode Island.
He said the roof is about 90% complete, but will be rain-proof for the first event Friday night, as Providence College holds its annual "Late Night Madness" That is a basketball season kickoff event featuring the band OneRepublic, which is not open to the public.
The AMP serves as the home to both the Providence College men's basketball team and the Providence Bruins AHL hockey affiliate.
Other improvements include new sub-flooring beneath the hockey playing ice and a new dasher around the rink. There is a new, renovated VIP hospitality area, new state-of-the-art high definition video production facilities and new broadband capacity for improved WiFi and cellular phone service.
"Every square inch of this building has been touched in the last 12 years," Lepore said. "So we have probably the most updated, most modern building in the area, and last year it showed. It showed because our numbers increased, we had the best numbers we've had in 30 years."
Lepore said the AMP and Convention Center remain a major draw for tourists.
"People come from out of state. They still love the city. They still think it's a walkable, very comfortable city. Easy to get to, great restaurants. So, we still sell not only the building but the destination," Lepore said.
The Amica Mutual Pavilion underwent a name change last year after naming rights for the Dunkin' Donuts Center expired. Prior to that, when it was owned by the City of Providence, it was originally known as the Providence Civic Center.