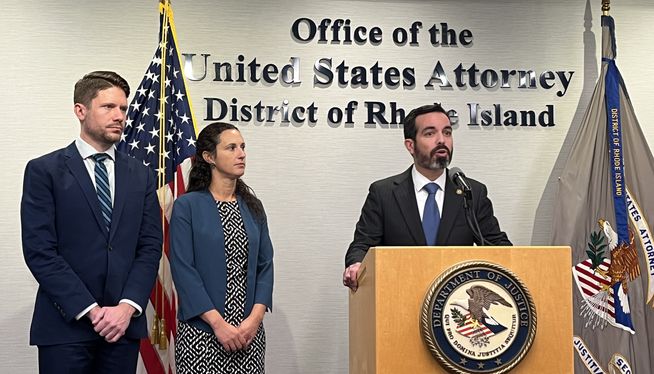 By WPRO News
The federal government has settled redlining charges with the oldest community bank in the nation, saying Washington Trust Company will pay $9 million to resolve charges that "it engaged in a pattern or practice of lending discrimination by redlining majority-Black and Hispanic neighborhoods in Rhode Island."
Despite expanding in 2002 to become a statewide bank, U.S. Attorney for Rhode Island Zachary Cunha said in a news conference Wednesday that Washington Trust, which had its origins in Washington County, failed to open any branches in any minority neighborhoods, despite making lending a cornerstone of its business.
"Washington Trust… did not open a single branch in a majority Black or Hispanic area. Instead, the bank located its new branches in majority white areas every time," Cunha said. He added that other banks made four times the number of loans to minority applicants than Washington Trust did.
In a statement, Washington Trust said that it " vehemently denies the allegations and entered into this agreement solely to avoid the expense and distraction of potential litigation, and to allow the Bank to focus fully on serving the needs of its customers and communities."
The government alleged that from 2016 to 2021, Washington Trust violated provisions of the Fair Housing Act and the Equal Credit Opportunity Act, and had been aware of its redlining risk resulting from a lack of mortgage lending activity from as early as 2011.
Cunha and Assistant Attorney General Kristen Clarke of the Justice Department's Civil Rights Division said the investigation that led to the charges and settlement resulted from a Justice Department "Combating Redlining Initiative" that has brought eight redlining actions nationwide since 2021, all resulting in settlements.
Under the settlement, which a federal judge must approve, Washington Trust will pay $7 million into a loan subsidy fund, which Cunha said should result in ten times that amount in loan activity. Also, the bank will spend $1 million on community partnerships to increase residential mortgage credit access, and another $1 million for advertising, outreach, consumer financial education and credit counseling focused on majority-Black and Hispanic neighborhoods.
Washington Trust must also open two new branches in majority-Black and Hispanic neighborhoods in Rhode Island, employing at least two mortgage loan officers, as well as a Director of Community Lending.