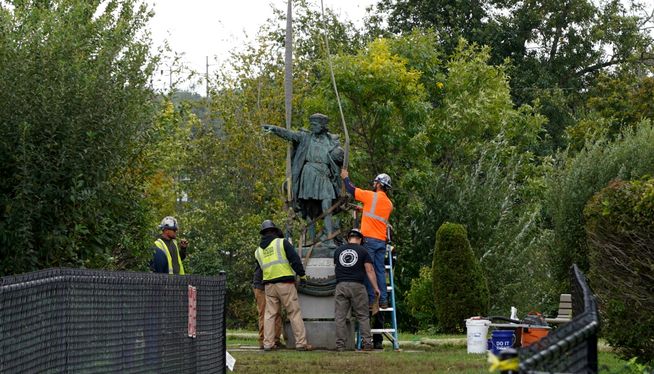 By Steve Klamkin WPRO News
A statue of Christopher Columbus that became the subject of contention in Providence has a new home on an island in Johnston, where surveillance cameras will be used to protect it from vandalism.
Cleaned of the red paint that covered the statue twice in recent years, the statue was hoisted onto a pedestal Tuesday morning by a volunteer crew using a giant crane, in a section of Johnston War Memorial Park that is surrounded by water.
"I heard about it on the radio this morning, and I threw my clothes on, I had to come out here to see Columbus being rested in a long-term place that's welcoming him," said John Cianci, head of the Italian American War Veterans of the United States.
Johnston Mayor Joseph Polisena, Jr. welcomed the statue, donated by former Providence Mayor Joseph Paolino, who purchased it from the City of Providence earlier this year.
"We're very grateful to Mayor Paolino for donating the statue and we're thankful to all the companies that donated their time and their resources to help get this done," Polisena said.
"I think it's going to mean a lot to Johnston," he added. "We have a very high percentage of Italian-Americans here in Johnston, but I think it goes beyond Italian-Americans. I think it's American history, I think it's world history. We have someone that had this big of an impact, especially on the Western Hemisphere."
The statue, long a mainstay on a traffic island on Elmwood Avenue in Providence, was defaced with red and black paint including an expletive on the front and hammer and sickle painted on the rear of the statue on Columbus Day 2017. It was immediately cleaned by the city, only to be defaced again on the same holiday in 2019, splashed from head to toe with red paint, a sign reading "Stop celebrating genocide", found leading against its pedestal. Weeks later, the statue was again covered with red paint, and months later, two teens were arrested for vandalism.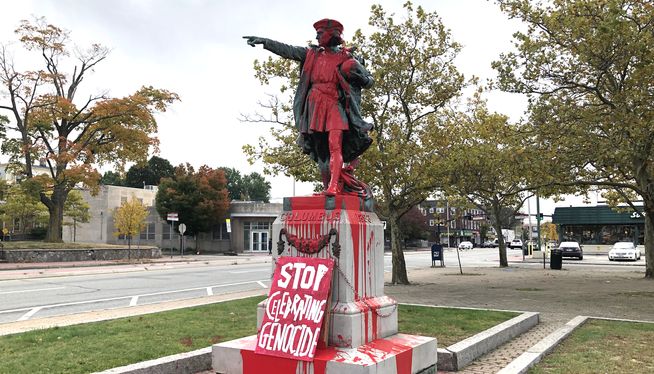 In June, 2020, then-Mayor Jorge Elorza ordered the statue removed form the traffic island. It languished in a city-controlled storage facility, until it was sold to Paolino.
"I didn't want to see Christopher Columbus get melted down into scrap," Paolino told WPRO News when he submitted the winning bid for the statue in March of 2023.
"Let's have it in a place that people can enjoy it, I'm not going to sell it, I'm not going to make money on it," Paolino said at the time he bought the statue.
" I did it because I wanted to preserve a beautiful piece of artwork and let people be able to appreciate the art, appreciate the accomplishments of Columbus and also let them know some of the problems he created, and that should be talked about too," Paolino said.
Johnston Mayor Polisena said steps are being taken to prevent a recurrence of the vandalism that plagued the Columbus statue in Providence.
"We have a security system that's in place to watch over it, and we're anticipating that this is going to remain here for a very long time," he said. He is planning a dedication ceremony next month, on Columbus Day.