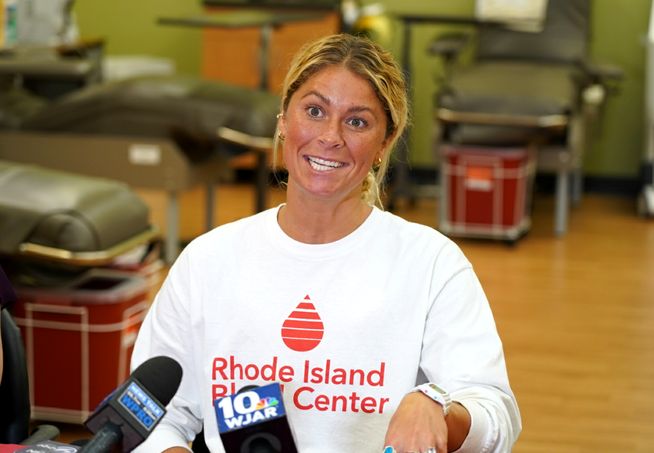 By Steve Klamkin WPRO News
The Rhode Island Blood Center has declared a blood emergency, enlisting three-time Olympic swimmer Elizabeth Beisel to speak out to encourage blood donations.
"It's important to give blood because so many people need it, trauma victims, accidents, cancer patients, and we're in a blood emergency right now," Beisel said Tuesday in a news conference at the Blood Center's donation center in Warwick.
"There's no substitute for blood, it cannot be duped, it cannot be synthetically made, so it has to be relied on donations from the public."
Beisel, a Rhode Island native, recently made her first blood donation, carrying on a tradition begun by her late father, Ted, who was an avid blood donor.
"And if it's something that I can do as somebody that's a little bit scared of needles and blood, I think every single person out there should at least challenge themselves to go to an appointment, see what it's like. You're going to get through it, and then you'll keep coming back and back," she said.
According to the Blood Center, the region's blood supply is well below the optimal 5-7 days and while all blood types are needed, types O+, O-, B- and platelets are critically low.
"So many of us are eligible, but many of us just don't even come in and donate, so I encourage everybody to go to Rhode Island Blood Center, make an appointment, and see if you're eligible and just give it a try. Because, if I can do it, I promise you everybody else can do it," Beisel said.
To make an appointment call 401-453-8383 or visit ribc.org.