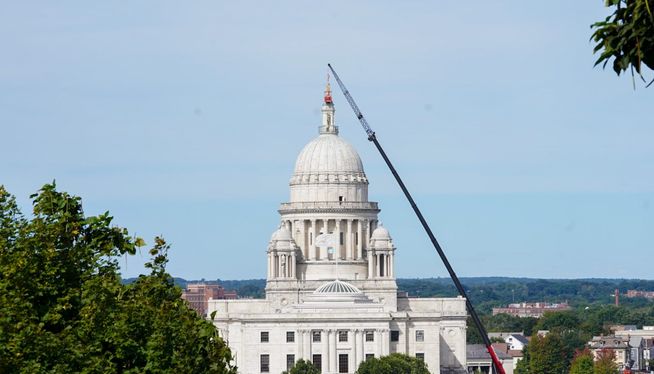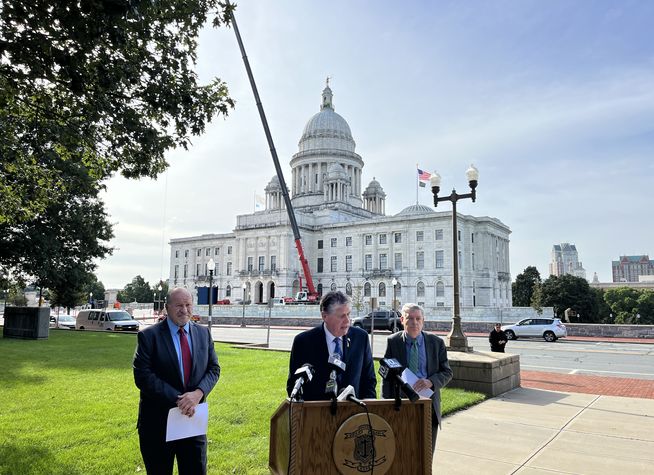 By Steve Klamkin WPRO News
With the threat of Hurricane Lee bearing down on New England, Rhode Island officials called in heavy equipment Friday to secure the iconic Independent Man statue atop the State House dome in Providence, after camera footage from a drone discovered the statue and its pedestal beginning to "separate" from the marble dome.
Although forecasts reduced the threat of high winds from Hurricane Lee, Governor Dan McKee and administration officials enlisted an enormous crane and crews to shore up the statue, raising the possibility the 11-foot tall, 500-pound, gold leaf-clad statue would be lowered to the ground at some future date for its first restoration in about a half century.
"The decision to embark on this preservation and repair effort came earlier this week after a team of our state employees captured footage of the State House dome that showed the marble base supporting the Independent Man statue had started to separate," said Governor Dan McKee at a mid-morning announcement across Smith Street from the State House, with a crane raised high in the air, ferrying workers to the dome atop a cupola at the top of the dome.
He said quick repairs were ordered, and eventually, the statue will be lowered to the ground at an undetermined date.
"The Independent Man will touch down on Rhode Island ground for restoration," McKee said.
McKee and administration officials had no immediate estimate for the repair mission.