By Kimberly Rau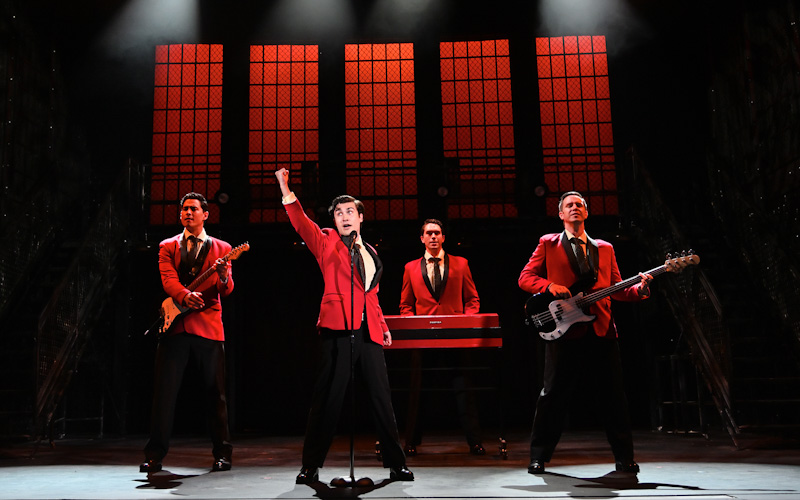 Theatre by the Sea concludes its 2023 summer season with "Jersey Boys," the hit jukebox musical that chronicles the evolution of Frankie Valli and the Four Seasons. It's a show with universal appeal that promises to entertain audiences of all ages, and Matunuck's version doesn't disappoint.
First, the book is fantastic, because the story is incredible. Told primarily between the four core members of the original group, member Tommy DeVito explains that there were only a few ways to get out of the New Jersey neighborhood back when he and his bandmates were young. You could join the army, or the mafia. Or you could become a superstar. (You could also go to jail, which various members of the group did over the years, but that was something of a rite of passage in that part of Newark.)
The road to stardom is never easy, especially when talent and egos clash and one of you is doing shady deals with loan sharks, and yet, the foursome makes it to the Rock and Roll Hall of Fame, coming together one last time to memorialize the moment.
Second, the cast is just as good as the story. Chris Marsh Clark, Aidan Cole, Kevin Patrick Martin and Zane Zapata play, respectively, Tommy DeVito, Bob Gaudio, Nick Massi and Frankie Valli. As a foursome, they work well together, and each man shines in his solo moments as well. A strong ensemble creates a cohesive world for our superstars to work with, and, under the direction of Kevin Hill (TBTS' producing artistic director), not a moment feels lost or extraneous. The choreography, also by Hill, is great, too, highlighting the variety of performance styles that have come and gone over the years.
The Four Seasons' extensive catalog acts as the score for this show, with familiar favorites including "Oh What a Night," "Rag Doll," "Walk Like a Man" and "Can't Take My Eyes off You," among many others.
"Jersey Boys" is a fan favorite for many reasons, and this production is no exception. People really love it, to the point where the producers have had to take to the stage before each show to implore people not to sing along with the performers until the last number (they'll let you know when). So, on behalf of the company, sit back and enjoy, but please let the actors do their thing.
Overall, this season was a good one at TBTS, one that only got stronger with each show. Last month's "Bodyguard" was a hard act to follow, but "Jersey Boys" was the perfect choice to meet that challenge. If you're in the mood for a fun and energizing night of theater, this is the show for you.
"Jersey Boys" runs through Sept. 10, 2023, at Theatre by the Sea, 364 Cards Pond Rd., Wakefield. Tickets may be obtained at the box office, online at theatrebythesea.com or by calling 401.782.8587. Masks are encouraged, but not required.