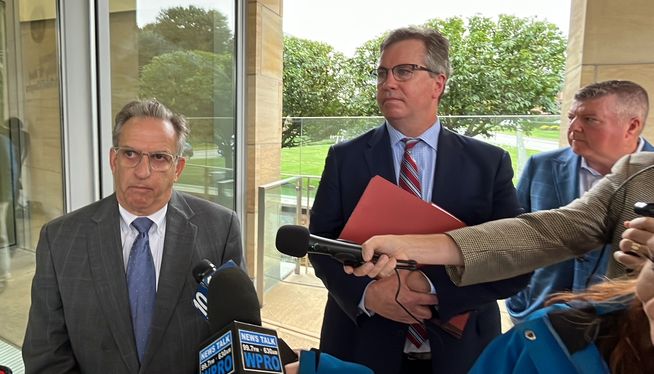 By WPRO News
Cranston Senator Joshua Miller changed his plea from not guilty to no contest Tuesday to vandalism, and obstructing a police officer in the June incident in which he admits he "keyed" the truck park next to his vehicle at the Garden City Shopping Center.
Miller entered "nolo contendere", equivalent under Rhode Island law to no contest to the misdemeanor charges during a brief appearance in Kent County District Court. Magistrate Judge Joseph Ippolito accepted the plea "in the interest of justice". He said the charges would be "filed" for a year, and would be dismissed if Miller stayed out of trouble. He ordered that Miller pay an agreed-to $2,850 to the owner of the pick-up truck on the vandalism charge, and another $250 contribution to the Rhode Island Community Food Bank on the obstruction charge.
Miller's attorney, John MacDonald said Miller had brought the two checks with him to court Tuesday.
Outside the court, Miller, a Cranston Democrat read from a prepared statement.
"I am truly sorry for my actions in this matter and I am disappointed in my behavior and lack of judgement. In a blink of an eye, I exhibited a lack of self-control that has impacted my reputation. For that, I only have myself to blame as I am solely responsible for what led to today's court proceedings," Miller said.
"To my constituents and supporters and Senate colleagues, I apologize for my actions. Most importantly, to those directly impacted by my conduct, I offer my sincere apologies. All I can ask is that I be judged on how I have comported myself throughout my life as a husband, father, business owner, employer and public servant."
Police determined Miller had lied to the responding officer by first stating that the man who's SUV he'd keyed had yelled at and threatened him.
Miller said he feared that "gun nuts" were stalking him, based on a campaign sticker on his vehicle. The damaged vehicle had a "Biden Sucks" sticker on its rear window.
Cranston City Solicitor Christopher MIllea, who also serves in the Rhode Island House, said the agreement was acceptable to the city and the Cranston Police.
Miller told reporters outside court that he would talk with his constituents about whether to continue his political career.
Senate President Dominick Ruggerio said in a statement that he did not see a need to remove Miller from the chairmanship of the Senate Committee on Health and Human Services:
"Sen. Miller's actions on June 22 were deeply regrettable. He has accepted full responsibility, demonstrated sincere remorse, and made restitution," Ruggerio wrote.
"I don't believe that any one of us would want to be judged solely upon our worst moments.
"I choose to look at the whole of Sen. Miller's public service, including the countless hours he has spent working to make our state a better place to live and work. Because of his long record of service, because he has taken responsibility for his actions, and because the events of that day had nothing to do with his responsibilities in the Senate or his position as a state senator, we are putting this incident behind us and moving forward. Like all of us who hold elected office, Sen. Miller will ultimately answer to his constituents," Ruggerio concluded.