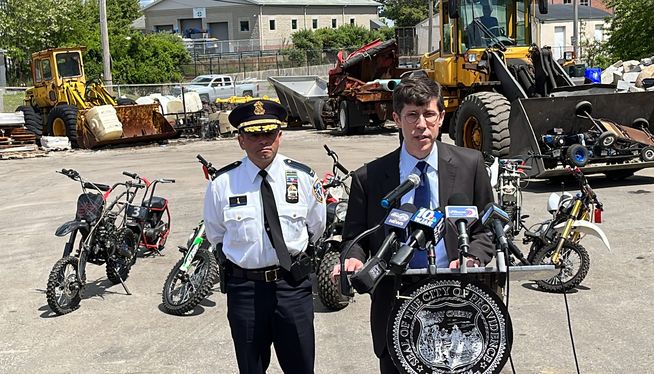 WPRO News
Providence city officials on Thursday crushed a handful of the 63 all-terrain vehicles seized by a police task force announced just over five weeks ago, to underscore their illegality at the traditional Memorial Day weekend start to the summer season.
A front-end loader was used to flatten about a dozen of the seized bikes, then scooped them into a large, metal trash bin at a city yard off Allens Avenue.
"These vehicles are dangerous," said Mayor Brett Smiley. "The use of illegal ATVs and dirt bikes make our streets unsafe and pose a tremendous risk to those who operate them. We've heard loud and clear from our neighbors that this is an issue impacting the quality of life and impacting public safety, which is why this has been a priority of mine since taking office."
Smiley said the new, Community Response Team had made 24 arrests since it was formed. Police Chief Oscar Perez said the dirt bikes and ATVs had been seized "all over the city."
"But we have certain hot spots in the city that we conduct intelligence on, because we know there are hot spots where they gather. But I don't want to come out here and start telling you exactly because we know where they are, and that's the reason we've been so successful in making so many apprehensions and seizing so many within a month," Colonel Perez said.
Some time after the ATVs were destroyed, an angry Jeremy Costa appeared at the yard. A spokesman for riders, he said he knew of two women who had bikes taken from their property by the city, and said legal challenges were being considered.