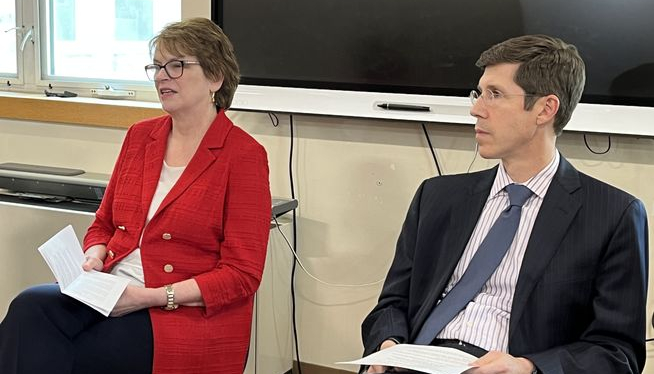 By WPRO News
Talks over renewing an agreement over payments in lieu of taxes between Brown University and the City of Providence are "making good progress" said Mayor Brett Smiley following a recent joint appearance with the president of the Ivy League university.
"They've come with a spirit where, they're not disputing that they should be making a payment, and they've come willingly to the table in good faith," Smiley told WPRO News.
"We're having good conversations," said Brown President Christina Paxson. "I think it's important that we, you know, have those conversations together and not talk publicly about where we're heading at this point. But, a good, trusting, positive respectful set of discussions."
Private institutions are exempt from paying property taxes, although Smiley is pursuing legislation that would enable the city to assess properties owned by the tax-exempt institutions, but utilized by taxable businesses.
In addition to Brown, the Smiley administration is negotiating with hospitals and four other private colleges in the city: Rhode Island School of Design, Johnson & Wales University and Providence College.
According to a 2012 memorandum of understanding, the four private colleges are due to pay the city just under $3 million by June 30, or a total of just over $40 million over the past 20 years.
"We're making progress. We started in February negotiating with the four private colleges. We've had multiple negotiating sessions in the last three months now and we're making progress. I'm optimistic that we're heading towards a resolution that will help make the financial agreements between the city and the institutions more fair.
"We know that they're really important institutions to the city's economic health, but at the same time they consume a lot of services, and when they take a building off the tax rolls it shifts the burdens on to the other taxpayers in the city. So, I'd say we're doing well and making good progress," Smiley said.