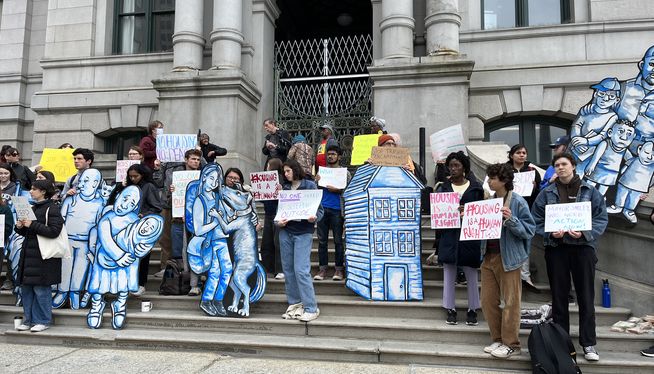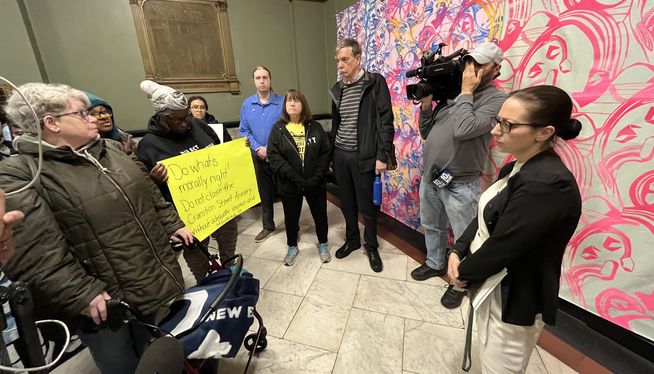 WPRO News
With the Cranston Street armory set to close in ten days, homeless advocates say Rhode Island communities are not doing enough to provide alternate housing, and presented the Providence mayor with a list of demands.
"Being homeless and unsheltered is a state of emergency," said organizer Terri Wright of DARE, during a Friday rally on the steps of Providence City Hall. "Stop dehumanizing homeless people," she said.
Members of the Rhode Island Homeless Advocacy Project called on the mayor to provide a list of city owned buildings, or buildings that could be acquired by the city for conversion to provide emergency shelter beds, to identify sites for, and purchase pallet shelters for longer-term shelter, and to instruct police not to arrest, ticket or harass those in encampments on city property.
They marched inside to present their demands to the mayor's Chief of Staff, Emily Crowell, who said Mayor Brett Smiley was unavailable. She said the city does not own any properties that are suitable for large housing encampments or shelters, but was working to identify non-city-owned property, and was working with the state to explore two sites on Elmwood Avenue and Eddy Street for possible shelter space.
Crowell noted that the state and not the city owns the Cranston Street armory, which has been a temporary shelter but is set to close May 15.
A number of homeless individuals and advocates appealed to Crowell to look more closely at, or to stay overnight in a shelter.
"Yes, in my backyard, that's what people should be saying," said organizer Eric Hirsch, in response to those whom he said take a "not in my backyard" attitude toward developing new houjsing.
The group, which also included members of Housing Opportunities for People Everywhere, Gather Together United as 1, the Rhode Island Poor People's Campaign, Better Lives Rhode Island, Mathewson Church Housing Justice Committee, and Direct Action for Rights and Equality said they plan to return every Friday until their demands are satisfied.