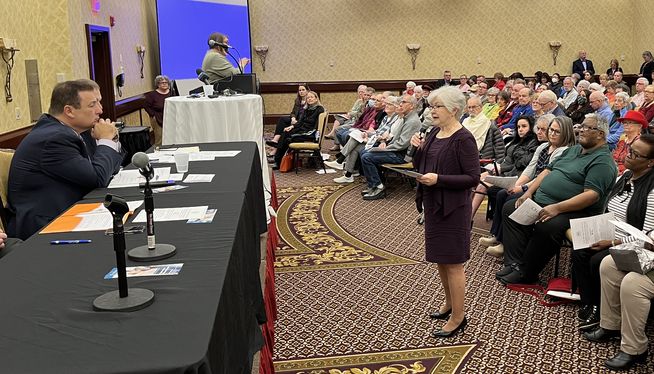 By Steve Klamkin WPRO News
Members of the Senior Agenda Coalition of Rhode Island spelled out their priorities for House Speaker Joseph Shekarchi and Senate President Dominick Ruggerio on Wednesday.
Both lawmakers said that despite a budget surplus, it is unlikely that the state can afford to fund their top priority- raising salaries for senior care workers to $20 dollars an hour.
Many senior care facilities and agencies are having trouble attracting and retaining certified nursing assistants and other health care workers, said Maureen Maigret, the Coalition's senior advisor at a forum before more than 225 seniors at the Crowne Plaza Hotel in Warwick.
"Other places like Walmart and some of the fast-food places are now getting $20 an hour compared to $15 an hour for workers that we really value, but we don't really show them we value them by giving them what would be, you know, a reasonable wage," Maigret said.
Shekarchi and Ruggerio listened to health care workers and others detail horrible abuse that some seniors have suffered, stories of long, exhausting hours faced by health workers and aides.
Each leader recounted actions that the General Assembly has taken to ease tax and other burdens faced by senior citizens. But both men cautioned that despite starting the current fiscal year with a $600 million surplus, the state cannot commit to raises in the current legislative session, which runs through the end of June.
"Uncertainty in the stock market, in the banking sector, it shakes consumer confidence, and people spend less money, rightfully so, and what happens when they spend less, tax revenues go down," Shekarchi said in an interview following the session.
"It's just that everything seems to be happening with the economy … it really hasn't been conducive to what we're looking to do right now," said Ruggerio.
Maigret, however, refused to be discouraged by the legislative leaders' message of austerity, after the leaders pointed to an ongoing 'wage study' being conducted by the legislature.
"But then they also said they recognized the issue of inadequate wages. I heard something a little bit more positive about wages," she said.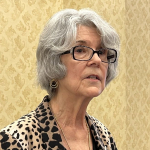 In addition to increasing the minimum starting salaries for senior direct-care homecare workers and nursing home workers, the group also called for $500,000 in state funding to The Point, a resource center for senior that was authorized, but never fully funded through the state Office of Health Aging, run by the United Way of Rhode Island.
The Coalition is also calling for the addition of five staff persons requested by the Office of Health Aging, along with steps to enable more seniors to qualify for the Medicare Premium Savings Plan, which could save seniors up to $2,000 per year.