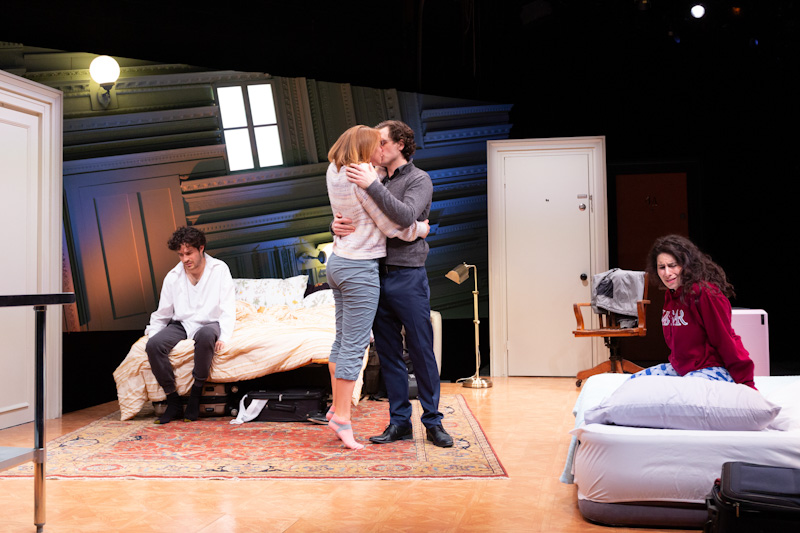 By Kimberly Rau
Three years ago, Gamm knocked it out of the park with Joshua Harmon's "Admissions." Now they're doing it again with Harmon's "Bad Jews," a stunning look at what it means to be Jewish – religious or not – in America.
The time is (more or less) present day. The place, a small studio apartment in Manhattan. Three cousins have gathered for their beloved grandfather's funeral. Well, sort of. Daphna and Jonah managed to make it for the funeral. Liam, the oldest cousin and most areligious of the three, was stuck in Vail with his ever-chipper and non-Jewish girlfriend, Melody. He comes crashing into the studio the evening after the funeral, unexpected redhead clad in ski boots in tow. Already hostile towards Daphna, Liam is immediately put off by the sleeping arrangements, and the fact that the best bed is not automatically going to him.
Tensions flare, especially when Daphna presses the issue of a precious piece of jewelry belonging to her late Papi. Called a "chai," meaning "life," the gold pendant is typically worn by men and has great significance in the Jewish faith. This particular piece has even greater intrinsic value for the family.
Daphna is by far the most devoutly religious of the three, planning to move to Israel after graduation, and feels that entitles her to the pendant. She stridently calls herself a "super Jew." But Liam is the oldest, and a man, the one who would traditionally inherit such an object. Religious or not, he points out, he is also mourning his grandfather, whom he loved very much.
Jonah, Liam's younger brother, desperately wants to stay out of the fray, only venturing to offer his opinion when it feels safe to do so. The conversation is about jewelry and Papi, but really stems from the differences in what each person feels it means to be Jewish. Daphna says all Liam wants to do is make fun of Jewish practices, even as he affords respect to other religions. Liam points out that Daphna can't possibly embrace all of the more conservative tenets of Judaism. It's a dying faith, he tells her, with very little relevance in a modern society.
"And so now when it's easier to be Jewish than it has ever been in the history of the world, now when it's safest, now we should all stop?" Daphna demands of her cousin.
The script is tight, running around an hour and a half with no intermission, and, despite its poignant subject matter, very witty. Daphna especially has these long, meandering monologues that interrupt themselves and go on tangents before arriving at the point. The playwright has given Liam these same types of monologues, because, despite their ideological differences, Liam and Daphna are very similar people. With Tony Estrella at the helm directing, every nuance is discovered.
The cast itself is spectacular. Sarah Corey, making her Gamm debut, plays Daphna in a gloriously realistic way. Read the program notes for her thoughts on Daphna; it's clear she's done her homework. This shows in every moment she's on stage. Her counterpoint, Liam, is played by Josh Hardin, also a newcomer to Gamm. His diatribes are so raw they're difficult to watch, the vulnerability coming through whenever he raises his voice. This is a man who fears losing control, and Hardin makes sure we can't villainize Liam too much.
Hillel Rosenshine, the third new face on Gamm's stage, plays people-pleaser Jonah, the second-born, the one who assumes everything, from inheritances to the focus in arguments, will go to his older brother. Rosenshine infuses Jonah with a quiet desperation – please, can't we just get along? For one day? It's a great performance. The three actors really do seem like family. They go from fighting to recounting a particularly funny birthday memory on a dime, taking the audience along with them. Is that enough to keep the family together? Who knows.
Left on the outside is the sunny, what-you-see-is-what-you-get Melody, played by Gamm veteran Nora Eschenheimer. She is never less than fantastic in whatever role she's playing, and her Melody is no exception. Melody wants to be loved by everyone, and knows how to handle her boyfriend, but is no match for the deep family dynamics at play. At times cringe-worthy, and other times so sympathetic you just want to hug her, Melody as executed by Eschenheimer is perfection.
Without spoiling the ending, what you'll come away with is the sense that, like everything else, matters of faith and family are not black and white. The people who shout the loudest are sometimes the most insecure, and those who stay quiet are sometimes the ones who have already made their peace with their connection to things. That's a message that should resonate with everyone. Don't miss "Bad Jews."
"Bad Jews" runs through March 26 at The Gamm Theatre, Jefferson Blvd., Warwick. Tickets may be obtained at the box office, online at gammtheatre.org or by calling 401.723.4266. Masks are now optional unless specifically indicated for a certain performance.