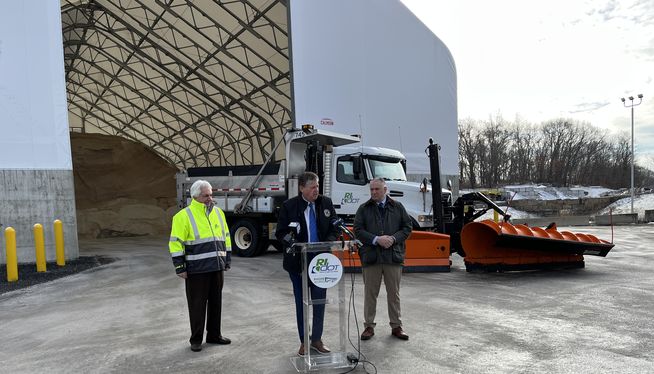 By Steve Klamkin WPRO News
After the first snowfall of the year Monday dropped up to four inches of snow in parts of Northern Rhode Island, state officials advised motorists about preparations for winter weather, saying motorists should drive accordingly.
"The inclement weather is here. We want you to slow down on the roads to be safe," said Gov. Dan McKee, as he and other state officials stood outside a huge state salt shed in East Providence Tuesday.
"Reduce your speed, give yourself more time to get to where you're going," said state Transportation Director Peter Alviti. "Plan ahead if you see inclement weather coming and of course, as always, don't drive impaired."
"In recent years we've upgraded our equipment at DOT," said Alvit, adding that the agency now has bigger "wing plows" that can cover several lanes at a time, along with newer vehicles. Sanding and de-icing compounds are "a bit more scientific," he said.
"We've got better temperature and conditions readings embedded in roadways. We can adjust our resources accordingly and respond better, and we can provide resources more strategically during storms," Alviti said.
He also put out a call for more private snow plow vendors, saying the state usually hires about 300 vendors to supplement its 150 plows, and currently have about 280 vendors.
"Our rates are competitive," Alviti said, adding the state has provided money for a 30% increase in the rates paid. He also said the DOT could use more maintenance personnel. More information for vendors, prospective employees and motorists is available at www.ridot.net/winter