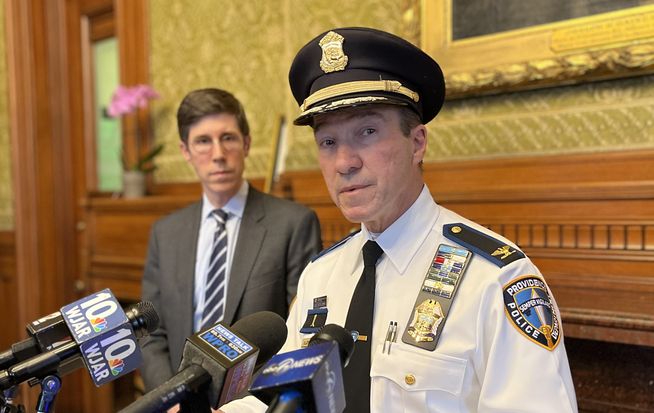 By Steve Klamkin WPRO News
Providence's mayor on Friday kicked off a search for a new police chief, announcing plans to enlist the community to assist in making his decision.
The decision ultimately rests with Mayor Brett Smiley, but with outgoing Chief Hugh Clements by his side, the newly-elected chief executive announced an online survey to help determine important attributes in a new chief. He said that it is important to involve residents and business leaders in the process.
"This is not a decision that can be made privately between the mayor and an outgoing chief," Smiley said in a City Hall news conference. "That in order to have broad-based community buy-in to the selection, which is integral to the success of the new chief and the department as a whole, that they need to be brought in to the process throughout."
Clements said there are good candidates within the department, but acknowledges the importance of involving the community.
"I know there's great leadership below me in the Providence Police Department but in the end, it will validate the person that is chosen by Mayor Smiley.
Clements is leaving the city after 37 years, nearly 12 a chief to assume another position. Both he and Smiley said they were not at liberty to disclose his new job. Public Safety Commissioner Steven Pare, a former Superintendent of the Rhode Island State Police retired at the end of 2022 as Smiley took office, succeeding two-term Mayor Jorge Elorza.
Smiley said the survey will help winnow an initial pool of applicants, based on a thorough background check, looking at qualifications, prior experience, leadership skills, and fitting community needs as identified in the survey.
Smiley said a final group of candidates will attend a public forum, where candidates will be asked questions developed through the survey. The forum will be moderated by Cedric Huntley, Executive Director of the Nonviolence Institute and community leader Dr. Pablo Rodriguez.
Smiley said he expects to make a decision in about a month. He added that he will wait until after the selection to determine whether he will need to fill the open position of Public Safety Commissioner.
Smiley added that he has ideas to revamp the role and approach of school resource officers, and said that while police can have great impact on addressing quality of life issues, he views hate crimes and a recent rise in anti-semitic incidents as serious crimes.