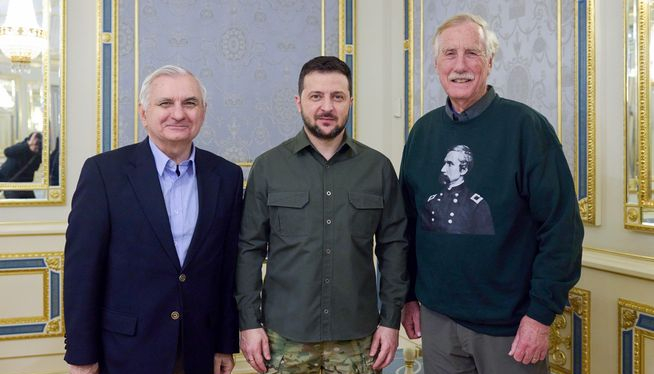 WPRO News
Senators Jack Reed (D-RI) and Angus King (I-ME) made an unannounced visit to Ukraine on Friday, where they met with President Volodymyr Zelenskyy and received a briefing on the country's resistance to the 2022 invasion by Russian forces.
The purpose, Reed tweeted, was "to show solidarity with brave Ukrainians fighting to defend their homeland from Russian invasion." Reed said the senators had a productive meeting with President Zelenskyy.
"The courage & resilience of Ukrainians & Russians who oppose Putin's invasion is a powerful & growing force," Reed tweeted.
"Welcome to Ukraine," President Zelenskyy told the visiting Senators in a video released by his office. "Thank you very much for everything, I think today I can say, very honestly and openly," Zelenskyy told the visitors.
U.S. Ambassador Bridget Brink joined the senators in the meeting with Zelenskyy.
"U.S. support for Ukraine is strong, broad, and deep," she tweeted.
The senators' visit came as over $3 billion in new military assistance to Ukraine was announced by White House Press Secretary Karine Jean-Pierre.
"The package is expected to include the Bradley Infantry fighting vehicles we announced just yesterday, self-propelled Howitzers, MRAPs and other armed personnel carriers, Gimmers rockets, surface to air missiles as well, anti vehicle landmines, ammunition and other items from DOD inventories, as well as $225 million in foreign military financing for Ukraine to build the long term capacity and modernization of Ukraine's military," Jean-Pierre said.