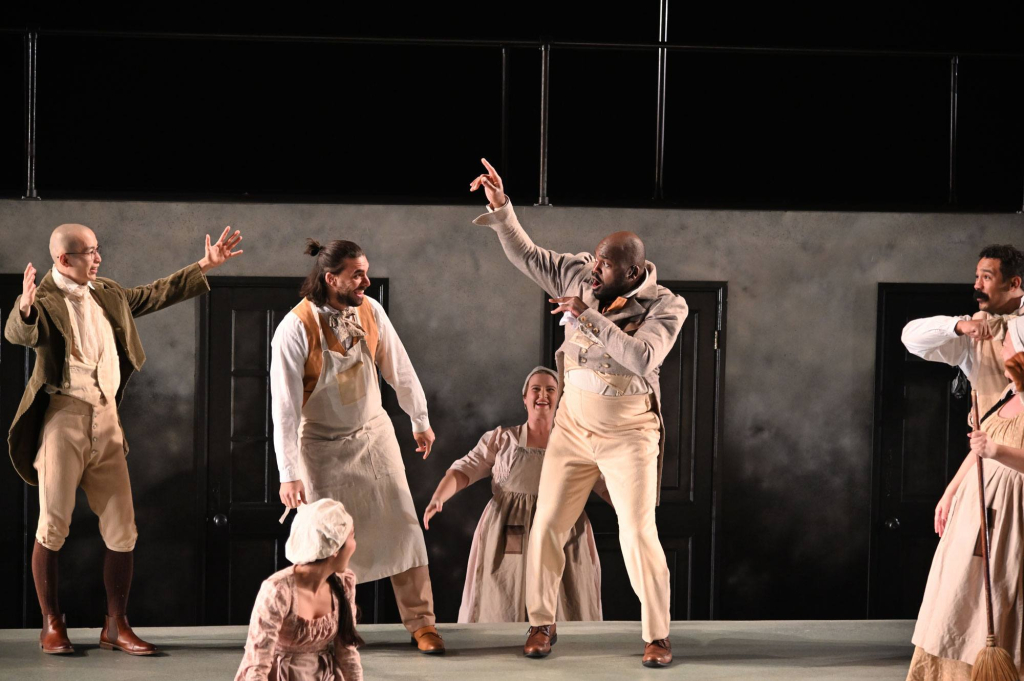 By Kimberly Rau
Trinity has been reinventing Charles Dickens' holiday classic "A Christmas Carol" for decades now, but this year's production hits home in a particularly strong way.
Really quickly, "A Christmas Carol" is the story of Ebenezer Scrooge, a miserly business owner who hates Christmas and all the glad tidings and good cheer associated therewith. After grudgingly sending home his overworked assistant, Bob Cratchit, one Christmas Eve, Scrooge goes home to his dark house, goes to bed, and is visited by the ghosts of Christmas past, present and yet to come, and realizes that a life without love and generosity is a lonely one indeed.
In this production, directed by Aileen Wen McGroddy, Scrooge is played by Phyllis Kay. Now, instead of a skinflint businessman like so many other men in England at the time, Scrooge is a woman. She's has had to claw her way up the ladder, enduring scorn and disdain alongside her business partner Marley (Rachael Warren). Bob Cratchit, an engaging family man who tries to see the best in everyone, is played by Luis Rivera Figueroa. The Cratchit family is canonically large, poor and struggling to get by, especially given the precarious medical state of their child Tiny Tim. Scrooge has never made an effort to get to know anything about Cratchit, and realizes that she literally cannot understand this wonderful, happy, Spanish-speaking family that is worlds away from her wealthy, solitary existence. This is despite having a nephew in town who has never given up on his beloved aunt, even as she spurns his affections.
Kay, Warren and Figueroa are all spectacular in their performances. Kay's dry wit plays exceptionally well with the script, and her Scrooge is petty and withdrawn, yes, but also sarcastic and funny, hinting at the person underneath the calculating exterior. It makes Scrooge's redemption arc all the more wonderful to watch. Warren's Marley is softer but no less shrewdly business-minded, spotlighting what a formidable team Scrooge and Marley must have been. And Figueroa's Cratchit seems meek at first, but his positivity and sense of humor show how strong he truly is.
The entire cast, from leads to angels to children's ensemble, has remarkable chemistry, making every moment a pleasure to watch.
This is a play about the value of family and making human connections in dark times. It highlights beautifully the importance of looking beyond one's own perceptions to see the beauty in humanity. But it's also about the value of giving others a second chance and forgiveness – especially when the person who needs it the most might be yourself. The timeless Dickens piece still holds true to its tale, and once again, the team at Trinity turns message into masterpiece.
"A Christmas Carol" runs through Jan. 1, 2023, at Trinity Rep, 201 Washington St., Providence. Tickets may be obtained at the box office, online at trinityrep.com or by calling 401.351.4242. Masks are required at all times while inside the building.