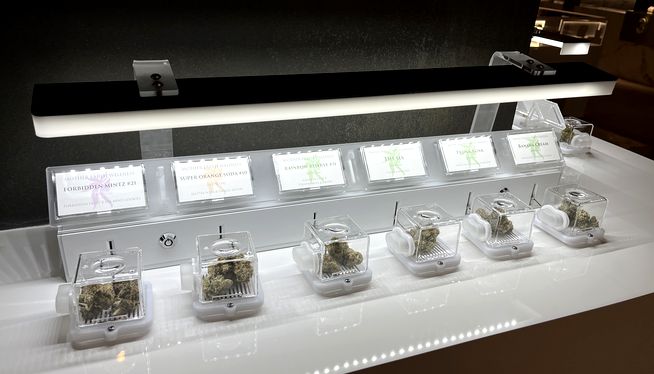 By Steve Klamkin WPRO News
Recreational marijuana can now be legally purchased in Rhode Island, with the December 1 start of adult-use cannabis sales at five state-sanctioned compassion centers under a newly enacted law.
The five centers had already been selling medical marijuana, and the law calls for an expansion into additional centers geared toward recreational cannabis, beginning in the coming year.
All five were jockeying to be the first to sell recreational marijuana in the state, and Karen Ballou of Coventry claims to be the first to make a purchase. The operator of "Cultivating RI" in West Warwick, one of some 65 licensed cultivators across the state says it meant a lot to her to come before dawn to the Mother Earth Wellness Center in Pawtucket.
"There's a lot of passion in the business, a lot of excitement around recreation, the first sale. It's something we've all worked for the last six years to get to this point. And, it's going to be good for the economy in Rhode Island also," she said.
Mother Earth Wellness co-owner Joe Pakuris was excited to open his doors to sales to the general public.
"It's very exciting, we're blessed to have this opportunity. We have an amazing team down here, we have an amazing selection and we're looking forward to kicking it off today," he said.
"It's not something new, cannabis has been around for a long time," Rep. Scott Slater (D-Providence), co-author of the enabling legislation said at the early-morning opening of the Mother Earth Wellness Center in Pawtucket, where he said he was pleased with the operation as well as the prospect of recapturing revenues that had gone to neighboring states.
"People were just going across the border and coming back to Rhode Island. So, why not allow Rhode Islanders to be employed and have access to safe cannabis," Slater said.
His co-author, Senator Josh Miller (D-Cranston) also toured the Pawtucket center.
"I think one of the key components versus the black market is, this is tested product. They confiscated product last week that had pesticides in it. So you can be confident that you're getting something that's safe, in a safe setting versus the black market," Miller said.
"I think we're also both very excited for the next stage, which is bringing in licenses that will come out under the social equity program, which will be another several months at least but we're excited to have that expansion in the future," Miller said.