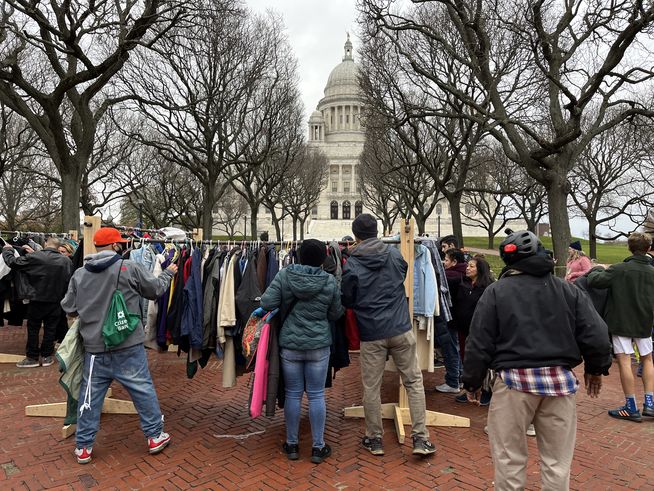 By Steve Klamkin WPRO News
Hundreds of people lined up for a free winter coat, hat or gloves on "Black Friday" in a long-standing tradition, the "Buy Nothing Day Coat Exchange", where "gently used" donated items are handed out to those in need, no questions asked.
"It's nice," said Doris Conklin. "I got a coat and some hats and a sweatshirt, and it was very nice to be here, and the people who donated. I'm on a fixed income, I'm on Social Security, so it helps."
Organizers said the need has grown, even after a record-setting 2021.
"We've just really kind of exploded in the last few years with both the need and generosity of our awesome donors which have been really, really amazing," said volunteer Becka Carroll.
The "Buy Nothing" idea was launched more than 20 years ago by environmental activist Greg Geritt, who turned over the organization of the annual event to others a few years ago, but came to help give out winter wear for a few hours.
As fast as coats flew off the racks at the intersection of Francis and Gaspee Streets at the State House, volunteers pulled up to drop off more bags of donated items.
"We want to make sure we have a coat for every person. Our worst nightmare is somebody comes and we don't have a coat for them, especially the kids, but it's extremely gratifying, especially the day after Thanksgiving. For us it's really an extension of Thanksgiving, it's something to to be thankful for, something to be happy about," Carroll said.
"I just got here, this is the first time I've known about it," said "Brenda" from Pawtucket. She lined up with people arriving to look over the racks of coats.
"I wanted to come and check it out with my friends, and see if I can get something nice. I appreciate every bit of it, you know, whatever I get, I'll be thankful for," she said.