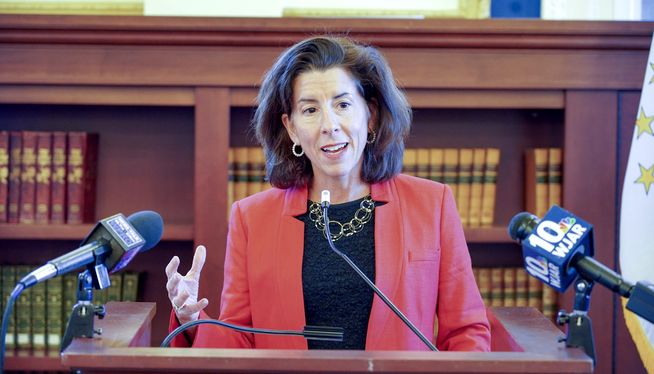 By Steve Klamkin WPRO News
U.S. Commerce Secretary Gina Raimondo came home to Rhode Island Monday, to address a business group and to announce a planning grant for the state as the Biden administration rolls out a $65 billion plan to expand broadband access nationwide.
"Sixty-five billion dollars is a once-in-a-lifetime opportunity to make sure every single American has internet," Raimondo told WPRO News following the announcement Monday afternoon at the Providence Public Library. "It's a big piece of work to us, and we're committed to it,"
An initial, five-million dollar grant will provide Broadband Equity, Access, and Deployment (BEAD) funding to enhance high-speed internet access, and another $506,000 will be used to develop a statewide plan to help close the digital divide.
"Everybody needs the internet, to do their job, to go to school, to visit the doctor via telehealth, and it's not enough that they have the internet, it has to be affordable," Raimondo said. She said there is an equity component to the funding, part of the American Rescue Plan Act.
"A third of Americans who live in rural America, half of Americans who live on tribal lands don't have broadband," Raimondo said. As many as 19% of Rhode Islanders don't have access to affordable, high-speed internet,"
Raimondo was to be a featured speaker along with U.S. Labor Secretary Martin Walsh Monday night to the annual meeting of the Greater Providence Chamber of Commerce. She told WPRO News that she expects Rhode Island will be able to weather the current inflationary pressure.
"Inflation is a problem, it's hard on people and that's why it's the President's top priority. But I am not worried that we will wind up in a recession like we had in 2008 and '08. The economy is a lot stronger than it was then," Raimondo said.
Raimondo was welcomed home by several speakers, members of the all-Democrat Congressional delegation, and said she's glad to be back.
"It feels great, I miss home. I love working for the President and the work's important but there's no place like home," Raimondo said.