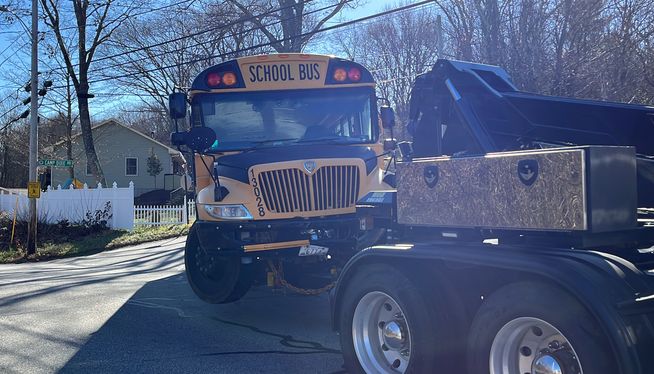 By Steve Klamkin WPRO News
Three elementary school students and two drivers suffered minor injuries in a crash involving a school bus carrying 18 elementary school children and a minivan Thursday morning.
Police in Burrillville said that a school bus carrying about 18 elementary school children collided with a minivan at about 8:15 A.M. on Camp Dixie Road in the Pascoag section of town.
Four people were immediately transported from the scene to hospitals, including two children and the two drivers.
"Each walked from the accident scene to the rescue vehicle, minor complaints," said Burrillville Police Major Albert Carlow.
"It appears sun glare was the issue," he said.
Another student was later taken to a hospital, said Pascoag Fire Department Deputy Chief Rich Peck. He said the students were being transported to the three elementary schools in the town.
"The bus was headed downhill and the car was coming up and they hit square, in the front," said Gary Morin, who was cutting wood in his backyard just a few doors from the crash scene when he heard a loud bang. He said word of the crash traveled fast.
"Within five, ten minutes, moms were coming, were driving up the street and everything, and my buddies were calling me from Harrisville. You know, it goes around quick around here," Morin said.