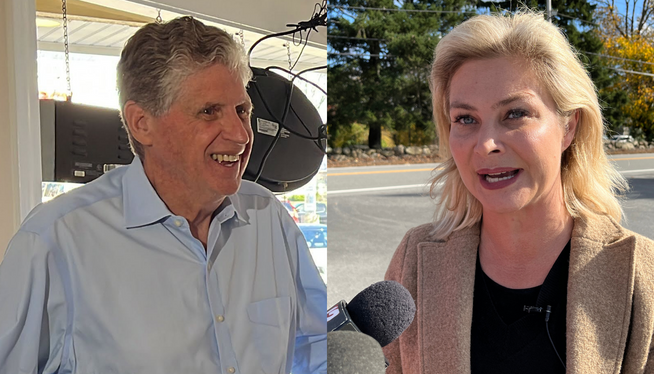 By Steve Klamkin WPRO News
The major candidates for governor began their final full day of campaigning in Northern Rhode Island, Gov. Dan McKee at a diner and pharmacy in Woonsocket, Ashley Kalus a few miles away at a coffee shop not far from the incumbent's home in Cumberland, where each one found sympathetic supporters.
McKee shook hands with owners and patrons at Danny's Place, where he campaigned with once and future Woonsocket Mayor Lisa Baldelli-Hunt, then assessed the race with a clutch of reporters.
"You do your best with a strong campaign, we don't get out-worked," McKee said. "We do our best making sure we're prepared and now we leave it up to the voters, but I have confidence that the voters will understand that we have a great deal of momentum and we want to hold on to it."
Asked by a reporter to predict the outcome, McKee said, "I never predict a margin of victory, but all I can tell you is, no one outworks us."
"I will definitely be voting for him, I like him," said Linda Fontaine, who stopped for lunch at the diner with her husband.
McKee then crossed Cass Avenue and walked into a CVS store, where he shook hands with patrons and staff members, before leaving for planned stops to campaign in Newport and Johnston.
A few miles away, Republican challenger Ashley Kalus stopped at Phantom Farms, a coffee shop close to McKee's home in Cumberland, where she met with reporters, then talked with regular patrons.
"It has been incredible, the response has been incredible," Kalus said when asked to assess her campaign. "People are ready for change, they're ready for someone who's going to make Rhode Island an affordable place to live, work and raise a family."
"Everything," said Marion O'Brien, when asked by a reporter what she liked about Kalus. "The intelligence, the fact that she knows in her heart what needs to be done," said O'Brien, who said she chairs the Cumberland Republican Town Committee.
Kalus also refused to make any predictions for the outcome in Tuesday's voting, other than to say she is confident she will win.
"I'm not predicting a margin of victory. A victory is a victory and I will be so honored," she said, before leaving for other stops around the state.