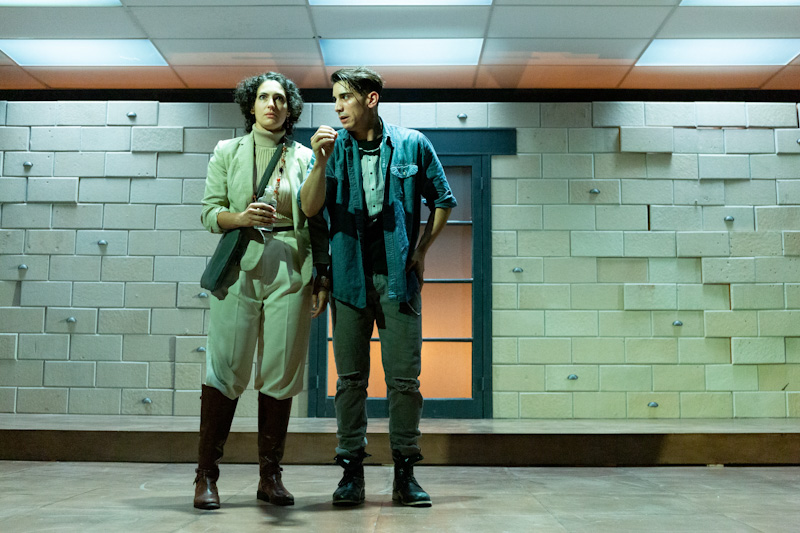 By Kimberly Rau
Truth is relative. Perception is reality. History is written by the victors. Eyewitness testimony is notoriously unreliable. Who knows how to separate fact from fiction anymore?
There lies the premise of Rajiv Joseph's "Describe the Night," which spans decades of Russian history, from the Russian-Polish War through the fall of the Berlin Wall and beyond, and includes several historical figures, though not, perhaps, as we're told they were. Did Stalin's darling Nikolai Yezhov really die in 1940, or did he live to his 90s in the bowels of a USSR records facility, influencing history through cloak-and-dagger techniques? Was his wife, Yevgenia, really poisoned in a mental hospital, or did she escape with the help of her lover and go on to serve leech-filled soup to an accused seditionist in East Germany? Was Putin really the son of a prostitute? Does it matter? Is recorded history truth, or just what we remember?
Under the direction of Tony Estrella, this winding road of a story is a kaleidoscope of sense distortion, from the play's intentionally unreliable narrative to the almost-overwhelming light and sound effects that make it seem as though war is raging right around the audience.
We start in 1919, with writer Isaac Babel (Michael Liebhauser) trying to describe the darkness around him for his diary. Nikolai Yezhov (Sean McConaghy), then just a soldier, overhears him and begins to question him about his record of events that happened earlier in the day. Yezhov has killed a man, ostensibly in self-defense, and is concerned that he not be portrayed badly. Their argument and following conversation about Babel's talent for lying leads to a lifelong friendship. Through the years, we see each man's story weave in and out of the other's, loyalty and betrayal comingling until the very end. Liebhauser and McConaghy are both riveting to watch, particularly as McConaghy's Nikolai grows more and more terrifying with each passing year.
These two men have met their match with the dynamic Yevgenia, who married Nikolai but loves Isaac. She either dies after being committed to an insane asylum, or becomes pregnant and escapes with Isaac's help. If that's true, she lives to be an old woman, raising her spirited granddaughter who will have her own run-ins with the Russian police one day. Donnia Hughes, last seen in "Ironbound," is just as wonderful in this role, giving us a character so realistic you want to believe the impossible for her.
As we stretch into modern times, we are introduced to the savvy and smart-mouthed journalist Mariya (Sophia Blum) and car rental employee Feliks (Dan Garcia), who become pivotal characters in this narrative simply by being in the wrong place at the wrong time. Blum and Garcia are wonderful additions to this superb cast.
This is not a play with easy answers. In fact, it's not really a play with many answers. The point is to make you question what you're told, and consider how fact and fiction are close bedfellows, depending on who's motivations end up on top. A top-tier cast, incredible sound and lighting effects (Alex Eizenberg and Jeff Adelberg, respectively) and solid direction make this season opener one you'll be talking about for days.
"Describe the Night" runs through Oct. 9 at The Gamm Theatre, Jefferson Blvd., Warwick. Tickets may be obtained at the box office, online at gammtheatre.org or by calling 401.723.4266. Masks are now optional unless specifically indicated for a certain performance.