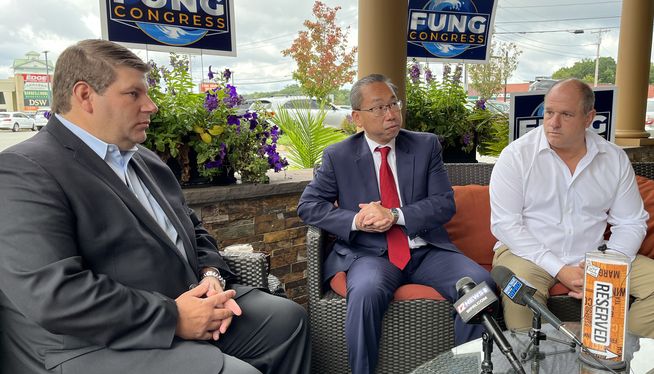 By Steve Klamkin WPRO News
Allan Fung, the Republican nominee in Rhode Island's 2nd Congressional District Tuesday celebrated his endorsement by the U.S. Chamber of Commerce with a relaxed meeting on the patio of a Warwick coffeehouse.
Fung said that Rhode Island, long represented by Democrats in both the House and Senate, should send a Republican to Washington.
"That's my responsibility down there, to kind of keep a check on the policies of this Biden administration, the (House Speaker Nancy) Pelosi Congress. We need that opposite voice, bring balance back to the House, bring balance back to Washington, D.C.," Fung said.
"At the U.S. Chamber of Commerce, our membership is over three million members," said Stephen McAllister, the Chamber's Vice President for the Eastern Region.
"We have members from businesses of all sizes and all sectors. And, our number one goal is to send people like Allan to Washington, D.C. that want to roll up their sleeves and get to work," said McAllister, who is also President of the Warwick City Council. He said the Chamber's political arm has already made a financial contribution to support Fung's candidacy, although any contributions are not yet indicated in the Federal Elections Commission database.
Dave Levesque, the owner of the Brewed Awakenings coffeehouse hosted the session with a handful of reporters, and said that Fung would adopt policies more friendly to small businesses like his.
As the event concluded, the campaign of Democratic candidate Seth Magaziner fired off a statement.
"In Congress, I will stand with working Rhode Islanders, while Allan Fung stands with the corporate lobbyists," Magaziner said.