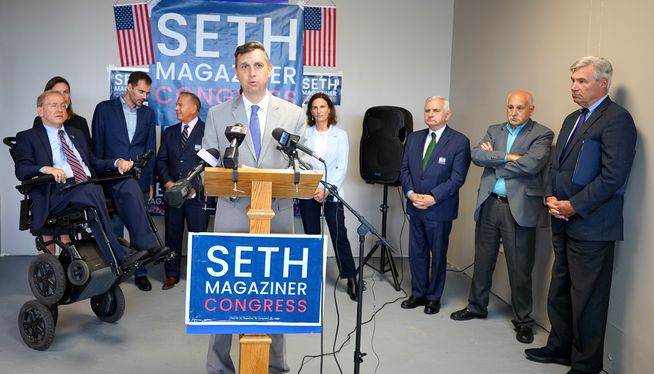 By Steve Klamkin WPRO News
Members of Rhode Island's all-Democratic Congressional delegation lined up Monday to support Seth Magaziner, the party's nominee for Congress in the 2nd district, who topped a five-way field in last week's primary election.
Magaziner, the term-limited state General Treasurer faces the Republican nominee, former Cranston Mayor Allan Fung in the General Election on November 8.
Joining Senators Jack Reed and Sheldon Whitehouse and Congressmen David Cicilline and the retiring Jim Langevin in a Johnston storefront adjacent to town hall were the four candidates Magaziner bested in the primary, Omar Bah, Joy Fox, Sarah Morganthau and David Segal.
"People say Allan Fung is a good guy," said Sen. Whitehouse. "Great, send him a Christmas card, don't send him to Congress."
Magaziner drew a sharp contrast with Fung, who he said would be in lock-step with national Republicans out to restore Donald Trump to the presidency.
"What this is about is having a member of Congress from the second congressional district who represents Rhode Island values, who listens to Rhode Islanders and reflects the will of the people of Rhode Island, not the far-right super PACs and MAGA donors and (House Minority Leader) Kevin McCarthy and Donald Trump," Magaziner said.
Time and again in a short stump speech, Magaziner referred to issues on which he and Fung disagree, including abortion rights, Social Security and preserving democracy.
"He (Fung) has refused to support codifying Roe v. Wade into federal law, which I will fight for. And again, his vote would be for Kevin McCarthy (to become Speaker of the House), who has already said that he is determined to pass a national abortion ban."
WPRO News has sent a message to the Fung campaign, seeking a response.