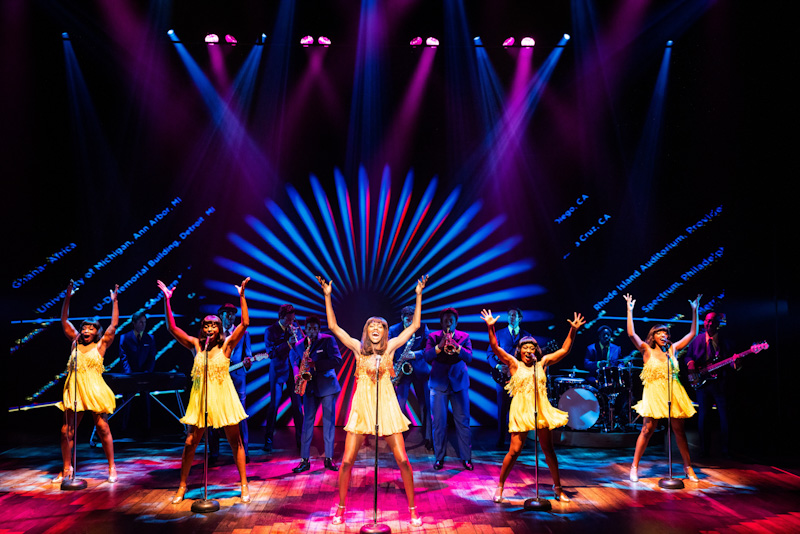 By Kimberly Rau
The Providence Performing Arts Center opened its 2022 – 2023 season with "Tina: The Tina Turner Musical," a jukebox musical that left audiences literally dancing in their seats by curtain. Directed by Phyllida Lloyd (of "Mamma Mia!") and executive-produced by Tina Turner and Erwin Bach, this is a show that surpasses all expectations.
Born in Tennessee as Anna Mae Bullock, the now-famous Turner didn't have things easy. Her mother took off with her older half-sister when she was young, leaving her to work as a sharecropper with her father as overseer. She eventually moved to live with her mother, where her singing voice caught the ear of musician Ike Turner, and soon after, the Ike and Tina Turner Revue was born. So was a horrific cycle of domestic violence. When Turner finally feels able to leave her husband, she struggles to make ends meet, until she's given another shot at stardom and earns her crown as the queen of rock 'n' roll.
Fans of Turner probably won't learn anything new from this musical, but like so many jukebox shows, you really aren't going for the story. Instead, your enjoyment is going to hinge on just how good the star is at allowing you to believe you're watching the real deal. And on press night, Naomi Rodgers blew everyone away with her incredible voice and portrayal of Turner. By the end of Act 2, Tina felt more like a concert than a musical, and when Rodgers took the stage to sing "Simply the Best," it was impossible to remember you weren't sitting in a packed arena listening to Turner herself.
As Turner, Rodgers alternates performances with Zurin Villanueva, probably to give each actress a chance to recover from what is one of the most vocally demanding roles out there. Rodgers had no problems rising to the challenge, killing it on hits like "Proud Mary," "River Deep, Mountain High," "What's Love Got to Do With It" and, of course, "Simply the Best."
But Rodgers wasn't the only one to shine on PPAC's stage. As a young girl, then-Anna Mae had already been making a name for herself as a choir standout, and the young Ayvah Johnson reprises her Broadway role on this tour. Johnson has a spectacular voice, even without factoring in her age, and is a joy to listen to.
Garrett Turner plays Ike Turner, a talented but broken and emotionally stunted man who can play the guitar, but has no idea how to treat people with respect. Though it's impossible to like Ike, Turner does a wonderful job portraying him and works well opposite Rodgers. The supporting characters and ensemble complete the cast and put on a heck of a show.
This may not be everyone's idea of musical theater, but it's a visually stunning show with some seriously talented performers that leave it all on the stage and make Tina a show to remember. Make some time this weekend to find out for yourself.
"Tina: The Tina Turner Musical" runs through Sept. 18 at the Providence Performing Arts Center, 220 Weybosset St., Providence. Tickets may be purchased at the box office, online at ppacri.org or by calling 401.421.2787