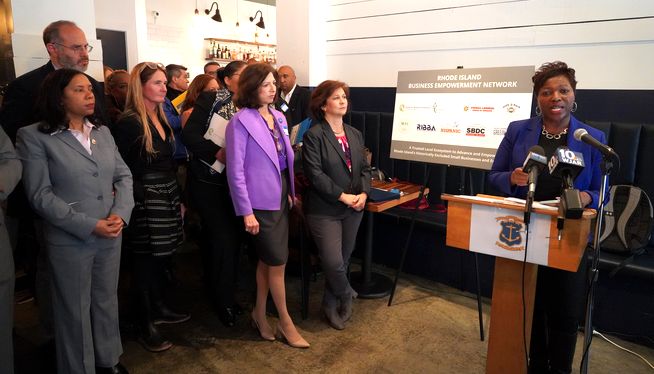 By Steve Klamkin WPRO News
A coalition of minority-owned businesses Wednesday celebrated its efforts to help other Black, Hispanic, indigenous, Southeast Asian and women-led businesses, issuing a call to the state for additional financial support.
The Rhode Island Business Empowerment Network says it provides free and low-cost professional business assistance, training and other aid, and vows to help build developing businesses and the economy at large.
"Black and brown businesses have been left behind, and we say absolutely no more," said Lisa Ranglin, one of the group's organizers and founder and president of the Rhode Island Black Business Association.
"We are calling on the leaders of our state to step up and do more for our community that has been left behind way, way too long," Ranglin said. She pointed to the $10 million dollars budgeted by Governor Dan McKee in his Fiscal Year 2023 state budget to assist small, minority-owned businesses, and said that is not enough.
"I am going to challenge all of us to call on the legislative body. We need $100 million dollars," she said to applause from the group.
More than a dozen speakers credited the Network and its work, spelling out its goals.
"So the Rhode Island Business Empowerment Network is aiming to make a case for investing in these communities that have been left behind," said Doris De Los Santos, Director of the Center for Women and Enterprise Rhode Island.
"Not just because it's the ethical or right thing to do. No, no, no, no, no. This is about creating the kind of economic empowerment climate that we need and to increase the tax base," De Los Santos said.
Among those joining the group's celebration at Kin Southern Table + Bar in Providence were Rhode Island Lieutenant Governor Sabina Matos, Secretary of State Nellie Gorbea and Commerce Secretary Stefan Pryor.