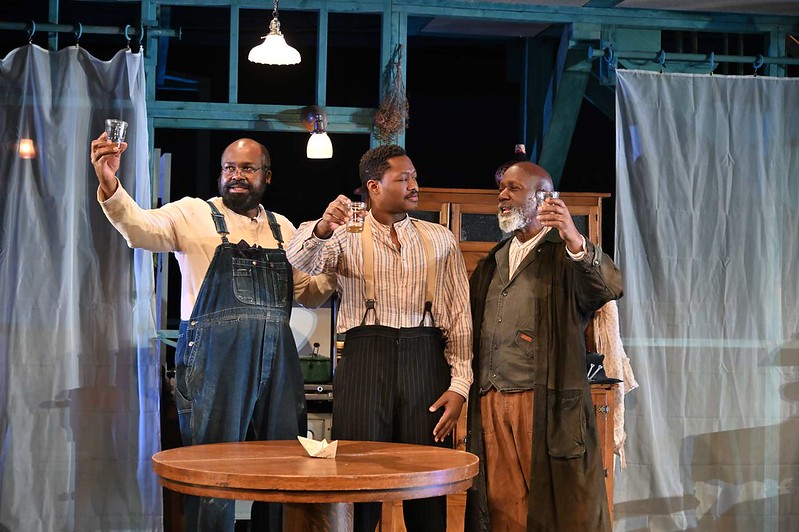 By Kimberly Rau
After a nearly two-year pandemic-induced hiatus, Trinity Rep has been offering up one hit after another this season, and August Wilson's "Gem of the Ocean" is no exception.
The first (chronologically) in Wilson's 10-play series about Black experiences in Pittsburgh throughout the 20th century, "Gem" is set in 1904 and focuses on 1839 Wylie Ave., where Aunt Ester Tyler lives with her chosen family. This consists of Eli, Aunt Ester's caregiver who also takes care of the house, and Black Mary, who takes in washing and acts as Aunt Ester's housekeeper and protégé. They live near the large mill that employs most of the neighborhood, and their address has a reputation for being something of a haven. Aunt Ester, who claims to be 285 years old, also has a reputation, for being able to invoke the Lord to cleanse people's souls.
Enter newcomer Citizen Barlow, who is desperate to speak to Aunt Ester and get a mighty weight off his soul; Solly Two Kings, who goes way back with Aunt Ester and acts as another voice of wisdom; and Caesar Wilks, Black Mary's brother, a landlord, baker and police officer, who holds his people to the letter of the law and doesn't hesitate to evict his tenants the second they're behind on their rent. His one weakness is family, and he reminds Black Mary that "blood is thicker than water." (When push comes to shove, Black Mary manages to embrace the meaning of the actual proverb, which is "the blood of the covenant is thicker than the water of the womb.") Finally, there's Rutherford Selig, a peddler who frequently visits Aunt Ester's home, whose friendship turns out to be worth a lot more than the pots and dustpans he sells the family.
Add in the tensions and problems surrounding slavery and the treatment of freed Black people, arson, a spiritual journey to the City of Bones and a whole lot of self-discovery, and you've got the makings of a fantastic show. (And, if you saw Radio Golf at Trinity in early 2020, you'll find a lot of references to Wilson's final decades play in this work.) Director Jude Sandy takes this impeccable script and his talented cast and brings to life a masterpiece.
And the cast of seven is truly perfect. Former company member Rose Weaver returns to Trinity after a 20-year absence, and brings to life the character of the spiritual, supernatural conduit Aunt Ester Tyler. Aunt Ester is an extremely complex character, and it's clear that Weaver has taken the time to get to know this woman inside and out, resulting in a phenomenal performance.
Ricardo Pitts-Wiley returns as Aunt Ester's romantic interest Solly Two-Kings, an equally complex character that acts as both an advisor to Citizen Barlow and the catalyst for some of the most important actions in the show. He, too, more than rises to these challenges. Dereks Thomas, who you'll remember from Radio Golf, plays Eli, a man who doesn't want trouble but also won't stand for injustice. Christopher Lindsay plays new-to-town Citizen Barlow, who hasn't been in Pittsburgh long but has already ended up on the wrong side of the law. Both Thomas and Lindsay are powerful actors who are a pleasure to watch, as is Mauro Hantman, who does a wonderful job with the comparatively small, but vital, role of Rutherford Selig.
Finally, there are Liz Morgan as Black Mary and Joe Wilson Jr. as Caesar Wilks. Both Trinity Rep veterans, these two are fantastic in their roles, but especially when their characters are facing off. Black Mary is a contrary woman, and her best scenes are the ones where she is putting a man in his place, whether that is her sibling or the smooth-talking Citizen Barlow. Morgan is great at this. Wilson takes an unlikable character, even for an antagonist, and makes him human, which is no small feat. Watching Morgan and Wilson together is a breathtaking experience.
In other words, Trinity has done it again, and given us another beautiful show this year. Captivating from first moment to curtain, "Gem of the Ocean" is one you'll want to make time for. Don't miss out.
Gem of the Ocean runs through March 27 at Trinity Rep, 201 Washington St., Providence. Tickets may be purchased online at trinityrep.com or by calling 401.351.4242. Masks and proof of vaccination or negative Covid test required.