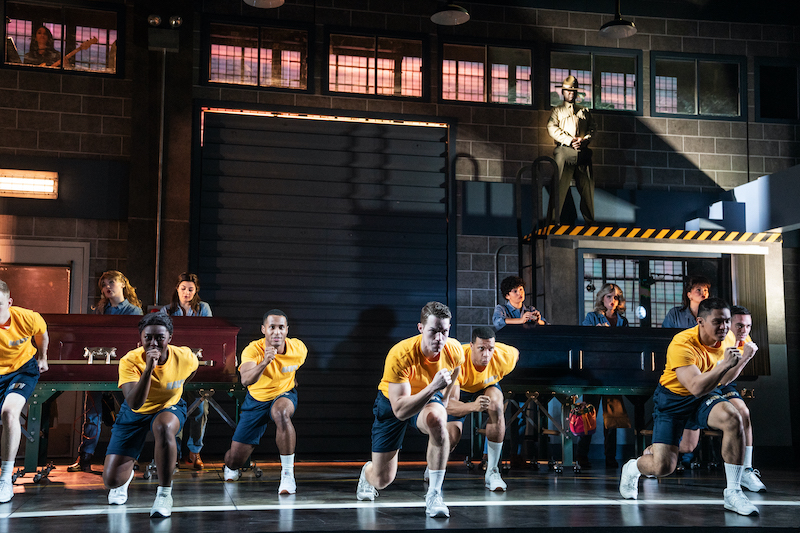 By Kimberly Rau
The 2021-2022 theater season seems to be the year of "jukebox musicals of Richard Gere films," because only a few short months after PPAC hosted "Pretty Woman," here comes the stage adaptation of the 1982 film "An Officer and a Gentleman." Unfortunately, despite a talent-packed cast and a great score, this is one musical that fails to fully get off the ground.
It's not that writer Dick Scanlon didn't try. This is not just a copy-and-paste of the 40-year-old movie that focuses on a group of Navy recruits trying to get through the grueling Officer Candidate School (with a love story or two thrown in, of course). Scanlon spent time at the Newport Naval Station to get a feel for a real OCS environment, and it shows. There are character tweaks that give women more autonomy than their film counterparts, and a diverse cast. The 80s hits peppered throughout the script are energizing and emotive. But some movies don't translate well into musicals. There's too much subtext to cram into the script to make the plot make sense, and the result is a hurried and glossed-over brush with what's driving each of the main characters. At the same time, at almost three hours, this is a long story to sit through, with an ending that doesn't proportionally pay off.
That's not to say it's a bad show, by any stretch, a lot of which is due to the cast. The five principal characters are played by some seriously talented actors. Besides having great acting skills, each of them has a powerful voice that could carry the most difficult of roles, and sound particularly good with the 80s tunes (seemingly effortlessly) power-belted over the course of the show.
Wes Williams plays Zack Mayo, a promising officer candidate with an insubordinate streak a mile wide, who ends up trying to impress the hardworking Paula Pokrifki (played by Mia Massaro), who has sworn to never waste her time with a Navy man. You can guess how that ends up working out for her.
Then we have Sid Worley Jr. (played by Cameron Loyal), the troubled officer candidate trying to please his father instead of examining what he wants out of life. He falls hard for Lynette Pomeroy (played by Emily Louise Franklin), a local girl dead-set on marrying an officer.
Finally, we have Casey Seeger, the female recruit who is back for another attempt at becoming an officer after failing to complete a physical challenge in the last class (it's a wall. She has to get over a wall. It's a metaphor as well as a ropes course).
Not to be overshadowed by his training class, Marine Gunnery Sgt. Emil Foley (David Wayne Britton) has some of the best one-liners and moments in the show. Add in a strong ensemble and some eye-catching choreography, and you have a recipe for a fun evening.
The show feels like it's just short of hitting the mark. The second-act Battle Stations scene, where the recruits must work within a war simulation, was a strange mashup of firefighting, computer work and spandex-clad Jane Fonda-style backup singers belting "Love is a Battlefield." The energy of the scene seemed to be incongruent, and, considering what that scene is leading up to (the most tragic moment of the evening), needed more work.
If you loved the movie, you'll probably love this show. If you are unfamiliar with the movie, you may want to watch it first, as you'll probably have questions if you try to parse everything from the stage version. Go expecting to see some real talent and hear some great tunes, but don't go expecting much from the script.
An Officer and a Gentleman runs through Feb. 20 at the Providence Performing Arts Center, 220 Weybosset St., Providence. Tickets may be obtained at the box office, online at ppacri.org or by calling 401-421-2787. Proof of vaccination or negative Covid test and masks are required.