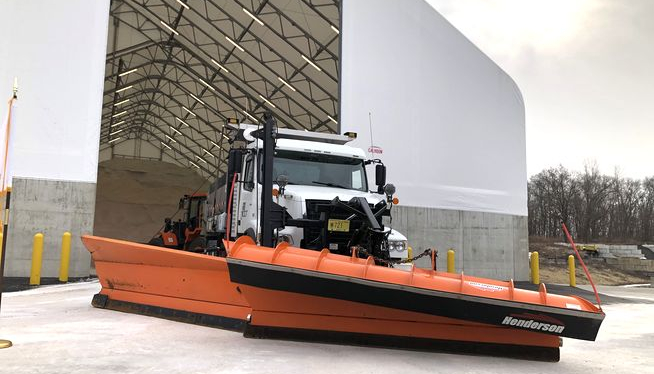 By Steve Klamkin WPRO News
Plow crews were gearing up Friday to battle a winter blizzard that promised to dump up to two feet of snow on Rhode Island and Southern New England, while state and city officials urged people to prepare to stay home, and to stay off the roads.
At a state Department of Transportation garage in East Providence, Gov. Dan McKee raised the prospect of an intense winter storm.
"The latest numbers I've heard for Rhode Island is between 12 and 18 inches of snow with very high winds… high winds means the potential loss of power," he said.
"We are expecting a significant snow storm and for those of us that lived through the blizzard of '78, we always think that it's an important thing to be prepared for. So, here today with the DOT team who is fully prepared," McKee said.
"Our folks are well seasoned," said state transportation director Peter Alviti. "They know how to clear this kind of storm from our roads and I assure you, they'll be out there, our dedicated forces, with the state police, keeping everyone safe and keeping the roads open the best we can.
At a separate news conference in Providence, Mayor Jorge Elorza said the city is expected blizzard conditions.
"I think the most important thing for every resident of the city is please, stay home throughout all of Saturday," Elorza said.
He said the city has enough crews to staff newer and bigger snow plows, but cautioned, the intense nature of the predicted storm could result in more snow than crews can keep up with.
"It's very likely the cleanup from this storm is going to spill long into Sunday, during and throughout the day."
He urged people to look in on neighbors, to help the elderly clear snow.
Police Chief Hugh Clements also urged drivers to stay off the roads and residents to keep their cars off the streets.
"There's no excuse to have your vehicle on the road," Clements said. "If your vehicle is parked on the road it will be ticketed, it will be towed and it's really going to ruin your weekend. One hundred dollars is the fine for the ticket and $120 for the tow, and then there are storage fees."
He added, look out for the homeless, adding that the United Way's 2-1-1 line is one number to call, the city's 3-1-1 line is another to seek 24-hour assistance.