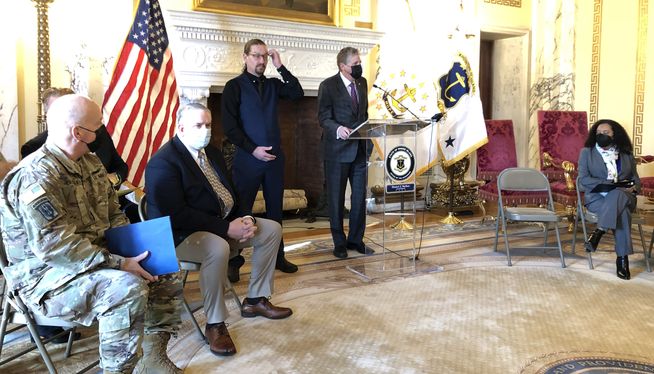 PROVIDENCE, R.I. (AP) — Rhode Island is trying to ease the staffing crunch at hospitals by deploying more National Guard members and making it easier for recent nursing graduates to get temporary emergency licenses so they can join the workforce, Gov. Daniel McKee said Wednesday.
About 60 Guard additional members will be deployed to Butler Hospital, a psychiatric facility in Providence, to perform nonclinical tasks, the Democrat said at a news conference. The state has already mobilized about 180 guard members to assist with testing.
Butler will then be able to open more beds for patients deemed not critical, relieving pressure at other hospitals dealing with a surge of new coronavirus patients driven by the spread of the omicron variant as staffs shrink.
The state is working with colleges and universities to conduct targeted outreach for recent nursing graduates and is holding job fairs.
The temporary licenses will give nurses the chance to join the workforce while giving them 120 days to complete necessary exams for a full license, he said.
The state is also boosting testing capacity, the governor said. About 175,000 tests were administered last week, equal to about 17% of the state's entire population, and the PCR test results are being turned around in a little over 48 hours, he said.
The state has also received an additional 100,000 at-home rapid tests, which will be distributed to communities and organizations throughout the state.