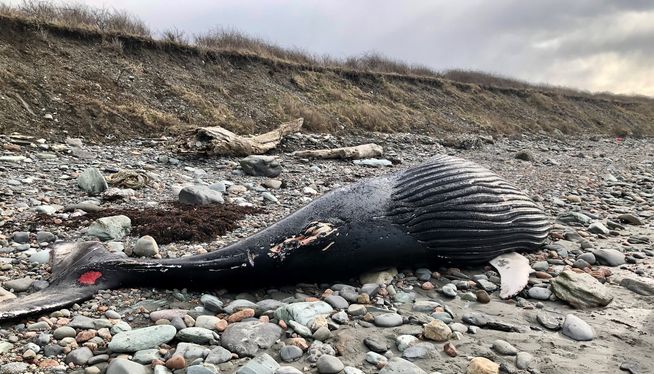 By Steve Klamkin WPRO News
A ten-ton humpback whale washed up on a remote beach in Little Compton over the weekend, and there were no signs of trauma, it wasn't entangled in nets or fishing line.
The Rhode Island Department of Environmental Management said that weather permitting, the Mystic Aquarium is sending specialists who hope to conduct a necropsy on Wednesday to try to determine what caused the mammal's death.
"It's a young, adult male humpback whale, we estimate that it's about 25 feet long, weighs ten tons, 20,000 pounds," said Michael Healey, a spokesman for the DEM.
"We haven't seen any signs of entanglements from fishing nets or fishing lines, we haven't seen any sign of scarring from a traumatic injury. No signs of, for example, being struck by a boat propeller," Healey said.
Healey adds that the whale is so big and the beach is so rocky and remote, crews may not be able to bury it. They may have to leave it to decompose on its own over the coming months.