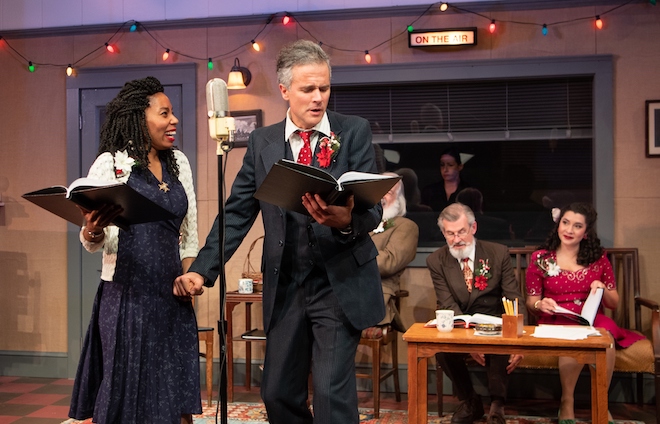 By Kimberly Rau
After a beautiful opening in 2019, "It's a Wonderful Life" returns once more to Gamm's stage, making December very merry and bright indeed.
The play itself is the well-loved Christmas story of friendship and redemption, adapted by Joe Landry and set up as a radio play from the 1940s, performed in the fictional WGAM radio station. George Bailey, who, despite his best efforts, never did manage to get out of Bedford Falls and see the world, is juggling his family, a floundering business and a growing feeling of frustration that his life is never going to be his own. When things reach a terrible climax on Christmas Eve, George contemplates suicide, until the angel Clarence, who is desperate to finally earn his wings, shows up to save him. When George wishes he'd never been born, Clarence is able to show him exactly how bleak things would be if that had been the case, resulting in George finding a new lease on life. The show ends with a Christmas miracle or two, and some beloved carols.
However, it's not just the story that makes this production special. Upon entering the theater, you are immediately immersed into the 1940s "radio play" setting. Emily Turtle, who also plays little Zuzu Bailey in the show, is playing Christmas carols at an upright piano as you walk in. Cast members are there to encourage you to sing along. You'll be asked to fill out an "instant message" to a friend or loved one that may be read during the show's "commercial breaks." A Christmas tree stands in the corner, and the radio studio is decked out in era-appropriate holiday decorations.
Directed by Damon Kiley, the 2021 staging has many of the same familiar Gamm faces reprising their 2019/2020 radio-personality roles. Gamm Artistic Director Tony Estrella reprises his role as George Bailey, and Lynsey Ford returns as both Mary Hatch and Rose Bailey. Fred Sullivan Jr. is back as well, and is delightful as Clarence the angel and positively reprehensible as Henry Potter the slumlord. Helena Tafuri, who takes on the rules of Violet Bick and Janie Bailey is new to the production, but is a Gamm veteran, with several shows under her belt (hopefully you were lucky enough to catch her in Assassins before the pandemic cut the run short). Jeff Church returns to pick up as the plucky golden boy Harry Bailey, with Richard Noble also returning as Joseph and Billy Bailey. This is a tight cast that clearly knows how to work together to bring out the best in everyone.
Pay special attention to DJ Potter, the foley artist who is performing the play's sound effects exactly as they would have been done in a radio play. While his work in the show itself is great, Potter is especially fantastic in the pre-show "12 Days of Christmas" sing along. The commercials (this year Greenwood Credit Union sponsored the production) are sung in harmony, as they would have been in the '40s.
This classic tale is one that shines in Gamm's adaptation, making it accessible to audiences young and old. If you're looking for a new tradition, or just want an evening out with the whole family, Gamm's It's a Wonderful Life deserves to be included in your holiday merriment.
It's a Wonderful Life runs through Dec. 24 at the Gamm Theatre, 1245 Jefferson Blvd., Warwick, RI. Tickets may be obtained at the box office, online at gammtheatre.org or by calling 401.723.4266. Theatre-goers must show proof of vaccination or negative Covid test, and remain masked. Visit the theater's website for more information.