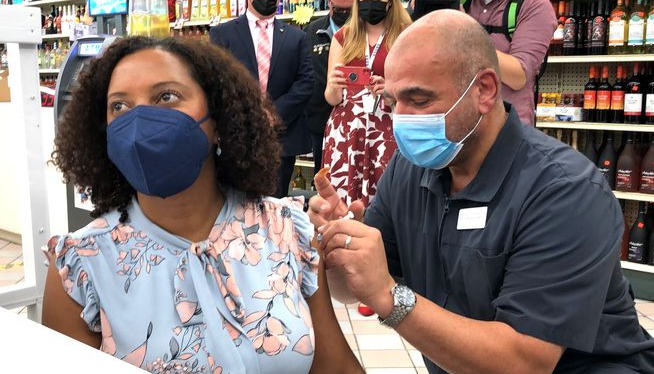 By WPRO News
Rhode Islanders are being encouraged to get the flu shot in addition to a COVID shot, and the state's Lieutenant Governor Wednesday rolled up her sleeve to get the vaccination.
The state Department of Health said that flu shots help reduce the incidence of serious illness from the flu.
"These vaccines are extremely effective at keeping people out of the hospital and keeping you alive," said Rhode Island state Health Director Dr. Nicole Alexander-Scott during the event Wednesday inside Anthony's Pharmacy in the Olneyville section of Providence, where Sabina Matos served as a Providence City Councilwoman until being chosen to become Lieutenant Governor earlier this year.
"So, I'm glad to be back in the neighborhood to show my neighbors and everyone in the state of Rhode Island the importance about getting the flu vaccine," said Matos.
She was accompanied by Gov. Dan McKee, who said he got the flu vaccine a few weeks ago, and Dr. Alexander-Scott said she got the flu vaccine the day before during a visit with her physician.
The Department of Health said in a statement that everyone six months of age and older should get a flu shot every year.