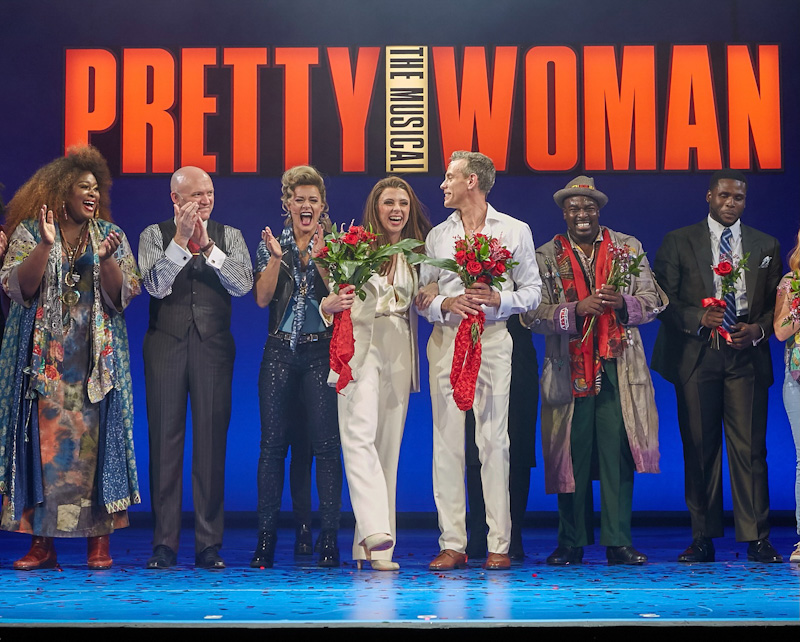 By Kimberly Rau for WPRO
The Providence Performing Arts Center returned to live theater this month by kicking off the national tour of Pretty Woman, a musical take on the 1990 romantic comedy starring Richard Gere and Julia Roberts.
In this stage adaptation, Tony Award-winner Adam Pascal plays rich businessman Edward Lewis, who ends up falling for sex worker Vivian Ward, played by Olivia Valli. Under the direction and choreography of Jerry Mitchell (of Hairspray, Legally Blonde and Kinky Boots), this 2-and-a-half-hour musical takes audiences through all the high points of the original story, with few deviations. It makes sense: the book was written by the movie's director (Garry Marshall) and screenwriter (J.F. Lawton).
Some movies don't adapt well to the stage, but not so for this rocking musical. Set in late-80s Los Angeles against a neon backdrop, the show places Vivian in the right place at the right time (Hollywood Boulevard, evening) to meet Edward, who needs directions to his hotel. Vivian provides them (for a price), charms him and stays the night (for a price) and ends up setting both their lives in a different, better direction (free). It's a grittier Cinderella story, and it works just as well on the stage as it did on the screen.
The talent in this tour is immense. Pascal is at home and fantastic on the stage as always, lending a rock star sound to Edward's songs. Valli is equally great, giving Vivian just the right amounts of grit and kindness, and her knockout voice pairs well with Pascal's, particularly their powerful harmonies in Act 2's "You and I." (And that number, a mash up with a song from La Traviata, is one of the best in the show, with ensemble member Amma Osei blowing the audience away with an incredible operatic voice.) Other standout cast members include Kyle Taylor Parker, who functions as a sort of narrator/one-man Greek chorus throughout the show, playing multiple characters effortlessly; and Jessica Crouch as Kit, Vivian's streetwise friend, roommate and fellow "professional."
Overall, this is a show you can't go wrong with. If you've seen the movie, you won't be in for any surprises, but that's ok. It's an upbeat, refreshing show that's perfect for people just returning to the theaters, with brilliant casting, lighting and design. Fans of the movie will like the faithful adaptation of a classic rom-com, and those who are unfamiliar with the original will love it just as much.
Pretty Woman runs through Oct. 16 at the Providence Performing Arts Center, 220 Weybosset St., Providence, RI. Masks are required for all patrons, as is proof of vaccination or a negative Covid test. Tickets may be obtained at the box office, online at ppacri.org or by calling 401.421.2787