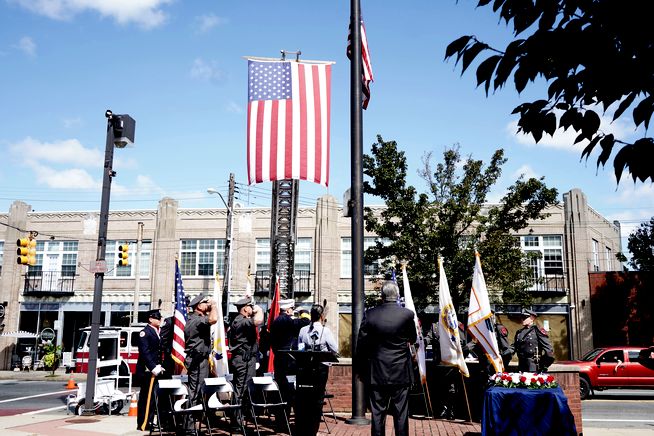 ---
By Steve Klamkin WPRO News
Solemn ceremonies are planned through the weekend to remember the 20th anniversary of the September 11, 2001 attacks on the United States, with the first ceremony held on Friday at East Providence City Hall.
The American flag was raised, a wreath was laid, a bugler played taps as speakers recalled the event that left the national shocked, but united after hijacked planes crashed into and brought down the World Trade Center in New York City, and other planes crashed into the Pentagon, and into a field in rural Pennsylvania.
"Back then, as today, we vowed never to forget. Here we are, 20 years later, and sometimes you feel people have forgotten," said East Providence Mayor Bob DaSilva. "It's important to keep this alive to people don't forget."
An enormous American flag, flying from the ladder of a fire engine served as the backdrop to the brief ceremony, which included a moment of silence, and onlookers holding up posters with the names of Rhode Islanders who died in the attacks and the aftermath.
In an interview, Kenneth DelleFemine remembered his sister, Carol Bouchard, who was a passenger on one of the ill-fated jetliners.
"She was just a great, fun person, a fantastic aunt, took care of the grandkids, she loved her grandkids," he said.
DelleFemine said it was important to pass on the story of the 9/11 attacks to younger generations.
"I explain everything I can to them, from the culture of the country to everything I can explain to them, and let them understand why this happened."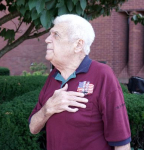 East Providence Fire Chief Glenn Quick was a firefighter that day 20 years ago, and watched in horror on TV as the Twin Towers collapsed. The next day, he and fellow firefighters were on an Amtrak Acela train, bound for New York City.
They spent the next 48 hours working on "the pile", the collapsed remains of the towers, helping firefighters from New York, who'd lost more than 300 colleagues in the collapse, and others from throughout the region, looking for survivors, or more likely, remains.
"Just the smells, the dust, the atmosphere, it was just something that was so surreal to look at and actually comprehend. I'm still processing it now," Quick said in an interview.
Many other communities plan similar ceremonies and remembrances through the weekend.The State of Rhode Island's official 9/11 Remembrance Ceremony is scheduled at the State House South Lawn beginning Saturday morning at 8:30 A.M., to coincide with the time the planes struck the World Trade Center.