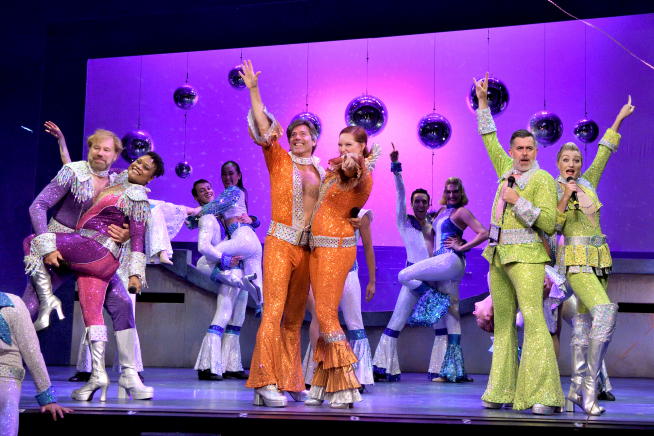 By Kimberly Rau for WPRO
After what seems like an eternity, the theaters are finally opening back up, and Theatre by the Sea opted to close a summer concert series with a run of "Mamma Mia!," the jukebox musical based around Abba tunes.
Masks were required when indoors regardless of vaccination status, which made for somewhat stuffy viewing, but even a return to facial coverings couldn't dampen the positivity of the audience, or the actors on stage. It seems like everyone was ready to be back in the theater.
"Mamma Mia!" doesn't exactly have a deep plot. Sophie, 20, is all set to marry her fiancé, Sky, in a big white wedding back home on a tiny island off the coast of Greece. It's a pretty big departure from how she was raised (by Donna, a single mom determined to do it all on her own), but nevertheless, her friends, mom and mom's friends all rally around her to give her the big day she dreams of.
There's just one problem. Sophie is desperate to know her dad, and, after discovering her dad could be one of three people, invites them all to the island to attend her wedding. They all show up, and the hijinks ensue from there. Of course, it's a happy ending for everyone, and throughout the 2.5 hour show, the audience is treated to their favorite Abba songs.
When you have a light storyline and pre-written musical numbers, what makes or breaks a jukebox musical is its cast. And TBTS hit it out of the park this time. Director and choreographer Kevin P. Hill put together a dynamite team, and music director Bob Bray made sure every note was perfect.
Lexie Dorsett Sharp plays a fantastic Donna, equal parts capable, vulnerable and sexy, with a powerful voice that does full justice to all of her numbers, but especially "The Winner Takes it All" in the second act. She's flanked by her on-stage best friends, Rosie (Tiffani Barbour) and Tanya (Merrill Peiffer). The chemistry between the three women makes it totally plausible that they all go way back. One of their best numbers is "Dancing Queen," where, as they sing into hairbrushes in their bedroom, you have no trouble seeing these grown women as lighthearted girls. Both Barbour and Peiffer have powerful voices and, lucky for us, each get their own standout numbers during the show.
Sara Bartoszek plays Sophie, and though she looks young, she clearly has the chops to handle this demanding role. Often, Sophie's character is placed on stage against older, more seasoned actors, and she holds the stage and the audience's attention (seemingly) effortlessly. Her scenes with Donna hit all the right mother-daughter relationship notes, but in a blink, she's back to a headstrong, sassy pal with her two friends. All of her songs are a treat to listen to.
As for the dads, David Elder reprises his role as Sam Carmichael, and is still fantastic in it. Jesse Sharp brings just the right amount of comedy to his portrayal of Harry Bright, stuffy banker who used to be hip, and Al Bundonis returns as confirmed-bachelor Bill, hitting all the right notes as he attempts to appease Donna and Sophie, but still avoid commitment of any kind.
Add in a stellar dance ensemble and you've got a hit at Theatre by the Sea this summer that will have you literally dancing in your seat. If you're up to attending the theater right now, head to South County and dive in.
Mamma Mia! plays through Sept. 8 at Theatre by the Sea, 364 Cards Pond Rd., Wakefield. Tickets start at $57 and may be purchased online, at the box office or by calling 401.782.8587