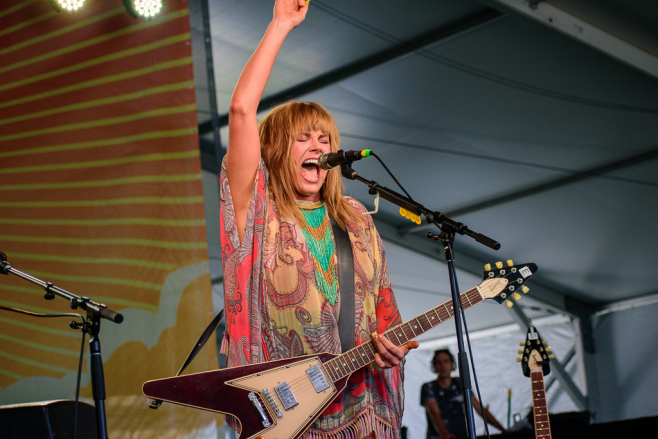 Photos and story by Doug MacGunnigle, Cumulus Media
After a year's absence due to the worldwide COVID-19 pandemic, the Newport Folk Festival was back in 2021, albeit in a modified form.
The yearly festival at Fort Adams normally takes place over a 3 day weekend, but was extended to 2 different 'half capacity' blocks of shows over a 6 day period.
The event, christened "Folk On" for this year, opened with a performance on the quad stagefrom the Resistance Revival Chorus, "touring musicians, film and television actors, Broadway performers, solo recording artists, gospel singers, political activists, educators, filmmakers, artists, and more, representing a multitude of identities, professions, creative backgrounds, and activist causes."
The group performed the Dionne Warwick classic "What The World Needs Now" at the request of Festival Director Jay Sweet and other uplifting material to kick off the day.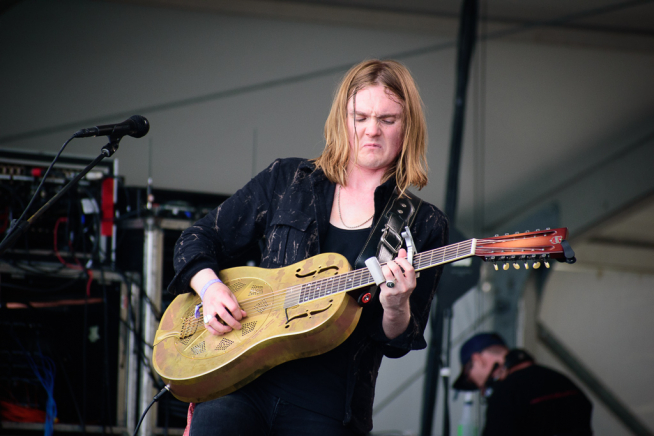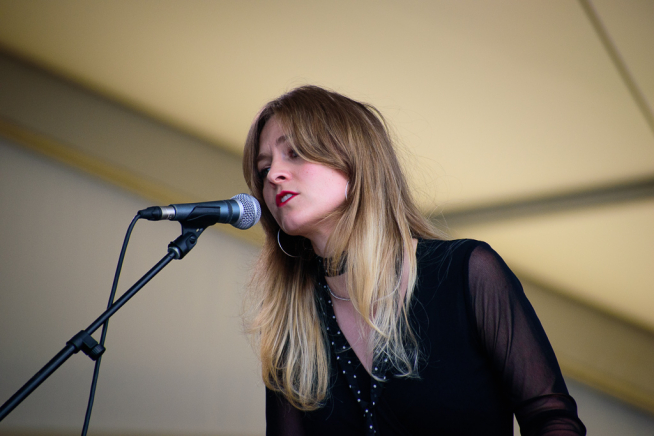 Husband and wife duo Ida Mae, consisting of Chris Turpin on guitar and Stephanie Jean on keyboards kicked off a bluesy alt-folk set on the scaled-down main stage highlighted by Turpin's impressive guitar work and stunning vocal harmonies. The material from their newly released album "Click Click Domino" sounded particularly great Friday afternoon.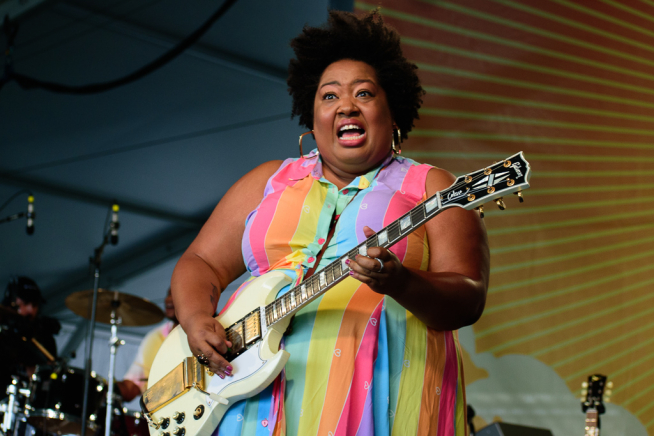 Singer, songwriter and multi-instrumentalist Celisse Henderson followed with a barnstorming set with her band, cranking out rapid fire guitar licks and soaring vocals. Her powerhouse performance won the crowd over instantly, and it's no wonder she's recently collaborated with acts as diverse as Phish and Mariah Carey.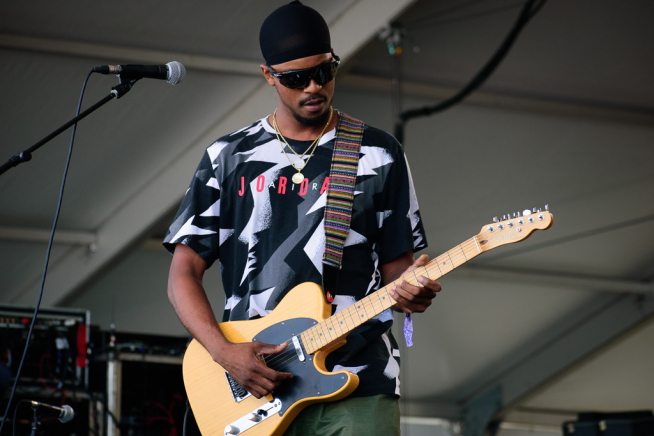 Black Joe Lewis and the Honeybears were next up, and Lewis' guitar pyrotechnics and James Brown-infused vocals, backed up with a Stax sound from the Honeybears continued the electric guitar heavy portion of the day, with Lewis himself remarking that he sure was glad Bob Dylan "decided to plug in back in the day."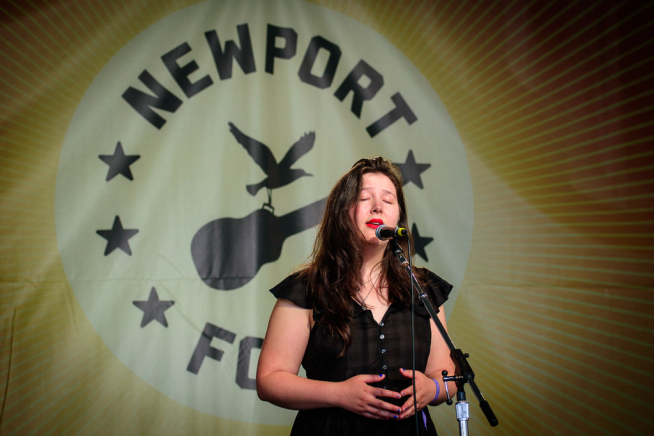 As we head back to the quad stage, Lucy Dacus and her band provided a more traditional 'folk' music set that focused heavily on her latest album, the outstanding "Home Video." In addition to the traditional acoustic guitars, there were plenty of electronic soundscapes that gave the material a live texture that acoustic instruments alone couldn't provide.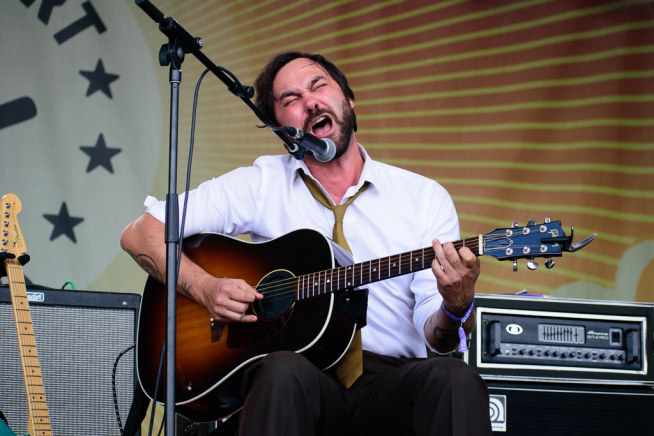 Festival favorite Shakey Graves performed solo, accompanying himself on acoustic and electric guitars, as well as percussion he played with his feet.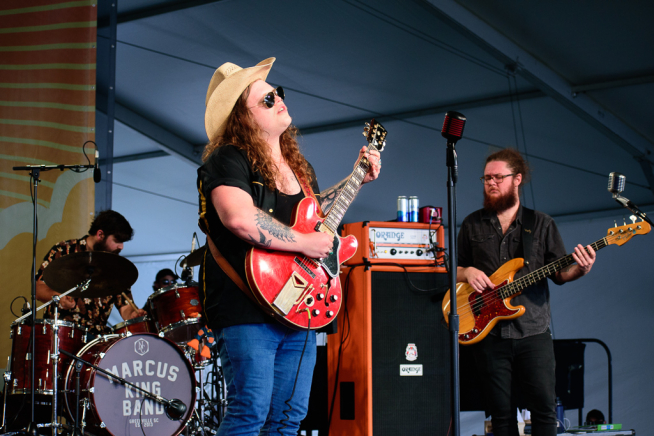 The southern soul infused rock and roll of The Marcus King Band followed, and King's soaring voice and blistering guitar shook the quad stage and definitely left its mark on the festival.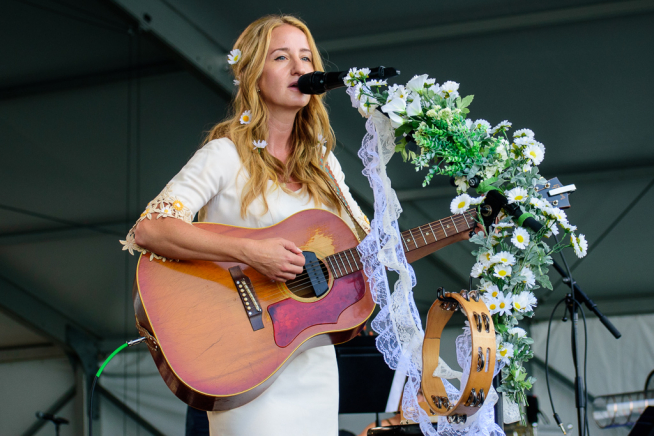 Festival veteran Margo Price followed with a heartfelt, breezy set on the main stage, performing with a cellist and with violinist Andrew Bird, as well as appearances by Shakey Graves and Adia Victoria.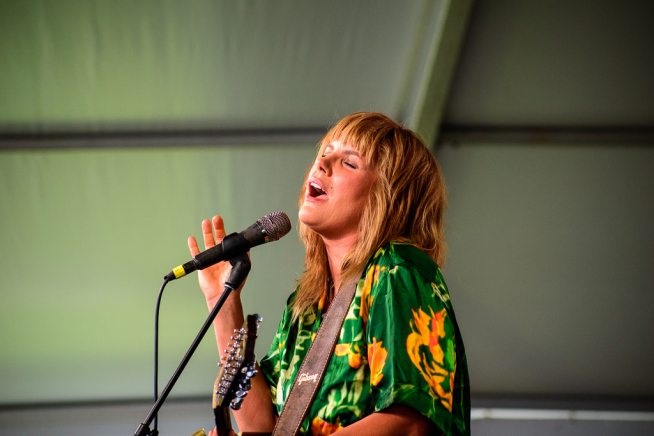 Jam band scene favorite Grace Potter was able to perform two songs before the festival grounds were evacuated due to lightning in the area. A set by Nathaniel Rateliff and the Night Sweats didn't happen for the same reason.
Happily, Potter's set was able to be rescheduled for 11am Saturday, and she kick-started the day with an energetic crowd friendly solo set, bantering back and forth with the audience and taking requests. A soaring cover of Jefferson Airplane's "White Rabbit" was one of many highlights.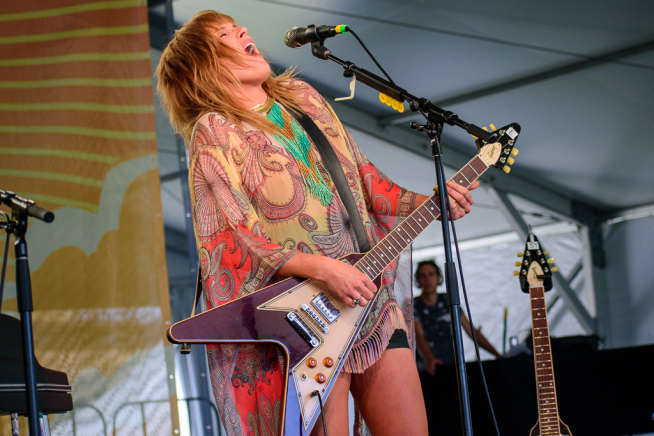 Hip Hop artist Demeanor's set was a crowd pleaser, and was a great example of how 'folk' continues to be redefined and expanded. His storytelling and mix of sampled beats and traditional instruments fit the bill perfectly.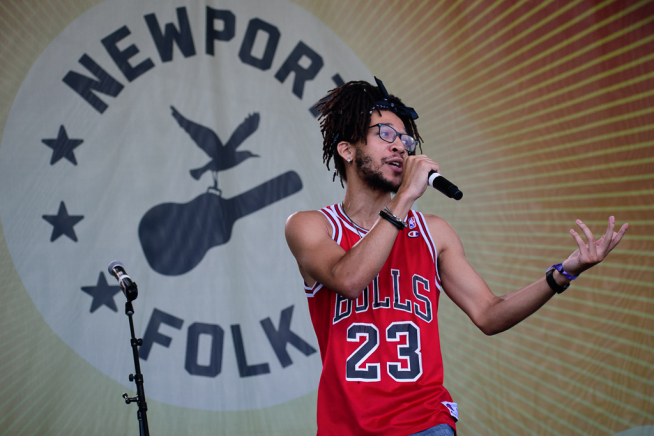 Solo Artist Yasmin Williams impressed with her deft instrumental acoustic guitar work on the quad, and Margo Price did another well received set with her husband and collaborator Jeremy Ivey.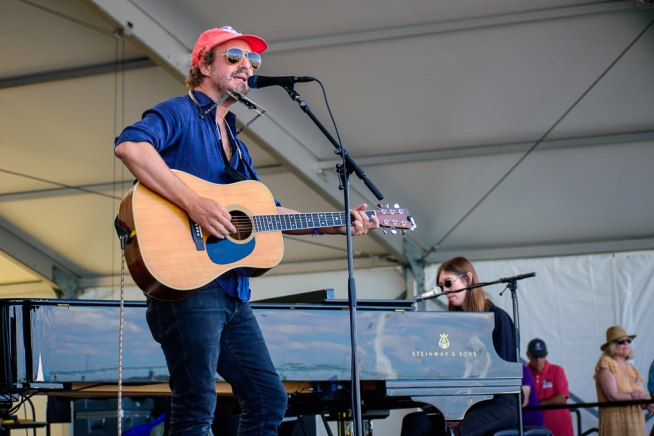 Indie-folk favorites Phosphorescent performed a well received set featuring acoustic guitar and grand piano.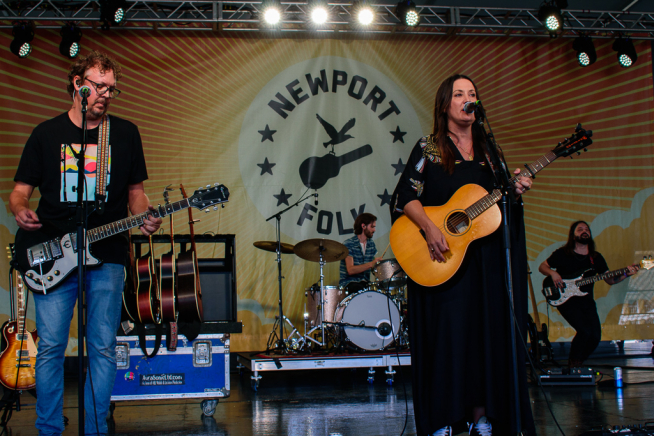 Songwriter Natalie Hemby, who has written songs for Miranda Lambert, Toby Keith, Carrie Underwood, and Lady Gaga performed some excellent material from her own new album, as well as a song or two from the Highwomen, her supergroup with Maren Morris, Amanda Shires, and Brandi Carlile.
Unique singer/songwriter Joy Oladokun performed a set on the Quad stage focusing on her strong 2021 release "in defense of my own happiness."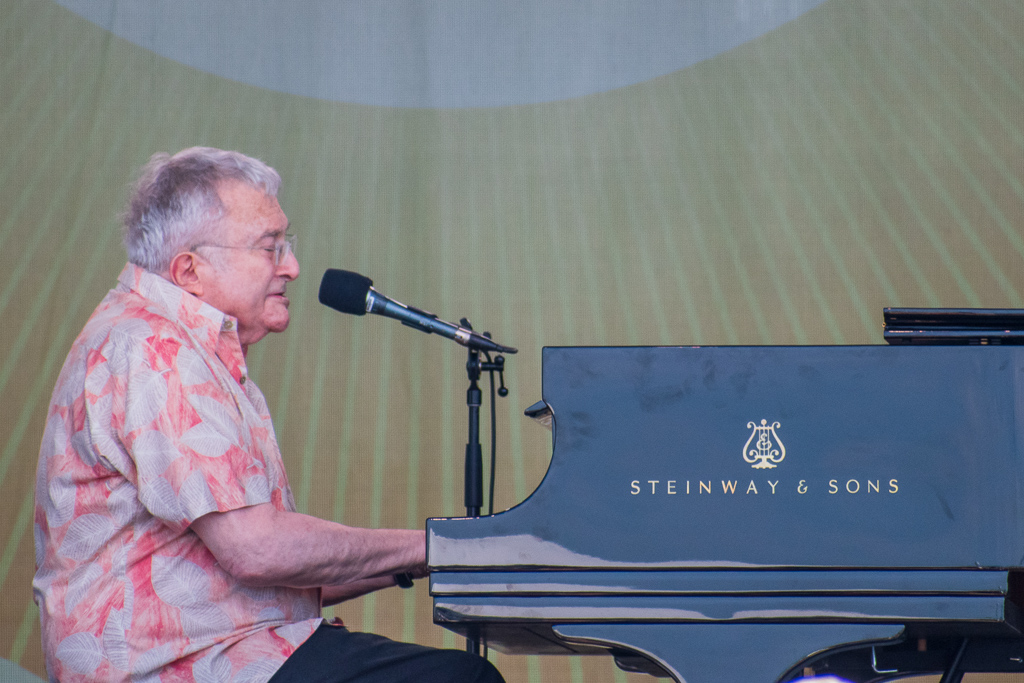 Randy Newman made his return to the Newport Folk Festival for the first time since 1994. His unique brand of sarcasm may have been lost on some in the crowd, as there were grumblings over some of the more 'politically incorrect' lyrics.
Perhaps those people were not familiar with Newman's "character songs," in fact he went out of his way to issue a disclaimer of sorts that he certainly doesn't ascribe to the thoughts spoken by the characters in some of his songs. The crowd overwhelmingly enjoyed the Rock and Roll Hall of Famer's set, though, to be sure.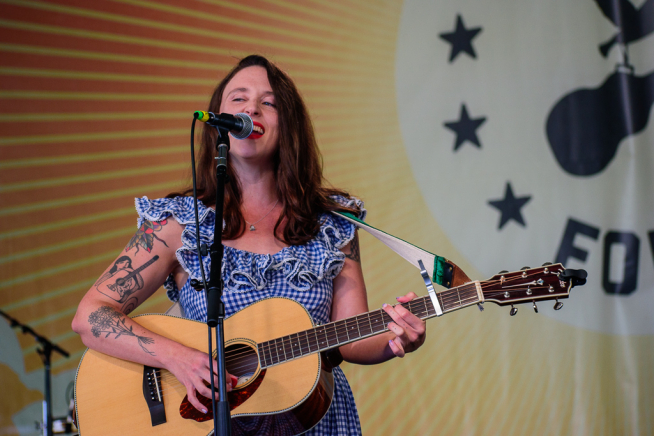 One of the most impressive sets of the year belonged to Waxahatchee, the stage/band name used by Katie Crutchfield. Her unique songwriting and spellbinding voice held the crowd's rapt attention during her set on the quad.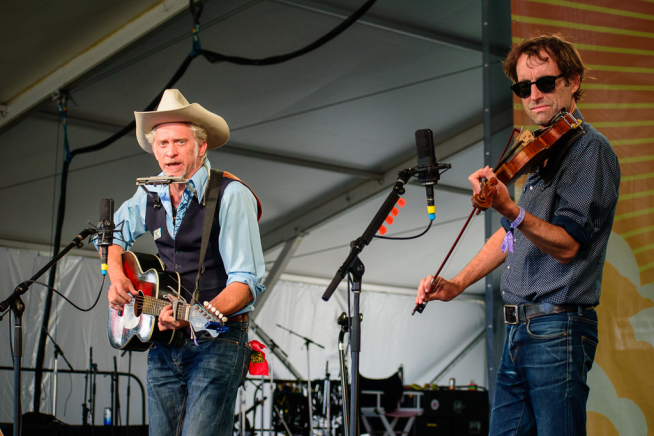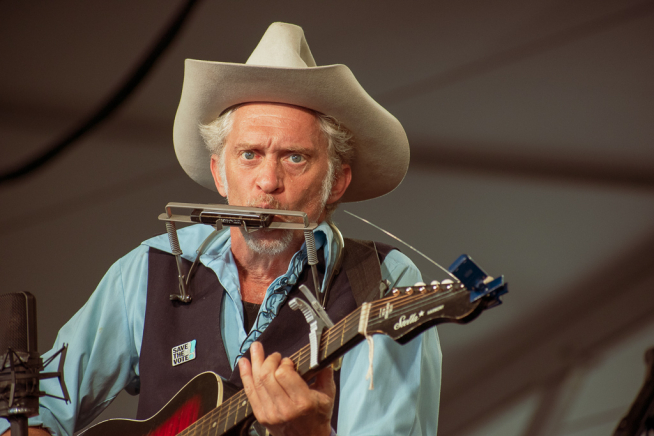 Andrew Bird and Jimbo Mathus performed material from their excellent "These 13" collaboration. Mathus led the Squirrel Nut Zippers a couple of decades ago, but his current Mississippi-fused acoustic material is among some of his best work. Bird's voice and unique style of playing violin remain jaw dropping no matter how many times one has caught a set of his.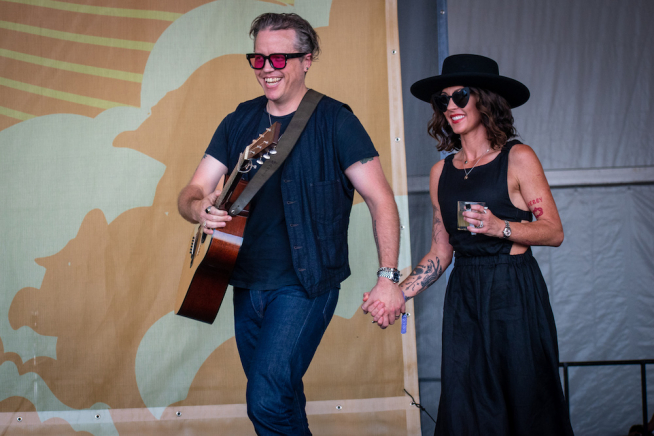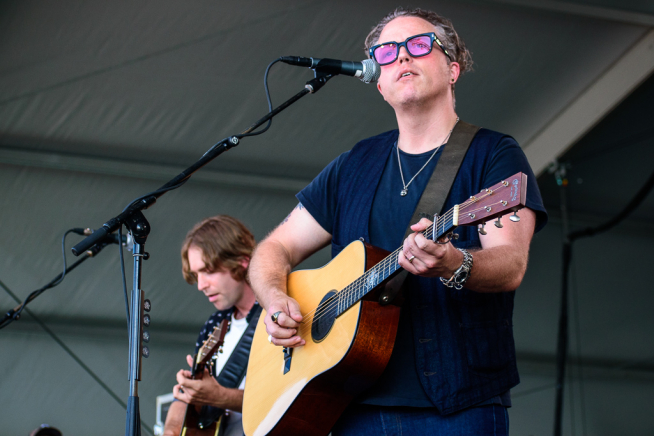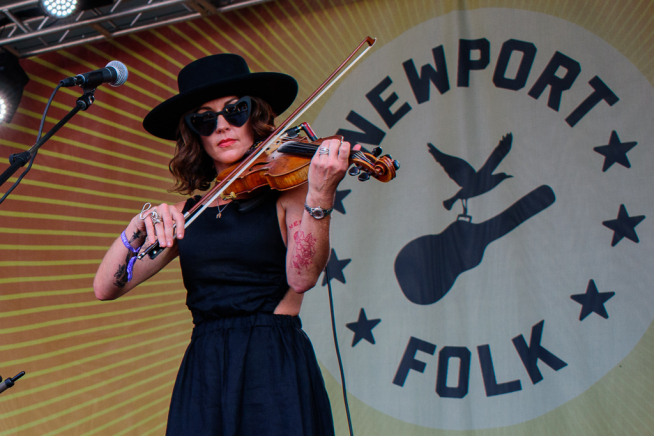 The evening was capped off with a set from Jason Isbell, accompanied by Sadler Vaden on guitar and his wife Amanda Shires on violin and vocals. They closed with the poignant "If We Were Vampires," one of the sweetest and saddest songs ever written.
Sunday followed with sets from Caamp, Yola, Billy Strings, Nathaniel Rateliff, and more, along with surprise appearances from Brandi Carlile and Chaka Khan. Sadly, this writer was unable to attend Sunday's performances.
"Folk On!" continues Monday- Wednesday with performances from Hiss Golden Messenger, Brothers of a Feather (Chris and Rich Robinson of the Black Crowes,) Ben Gibbard from Death Cab For Cutie, Fred Armisen, Beck, Deer Tick, Lake Street Dive, and many more.