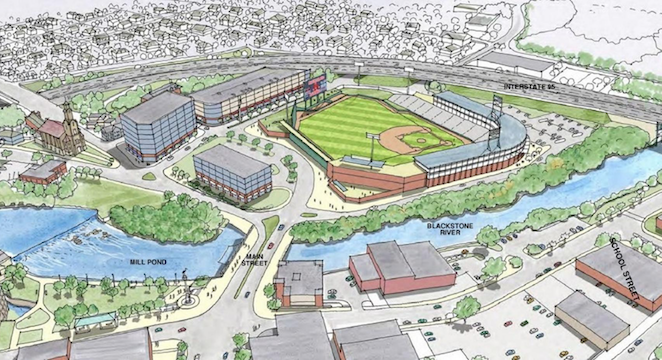 By Tessa Roy, WPRO News
After a roughly two hour debate in the House and about an hour in the Senate, state lawmakers cleared the House's Pawsox stadium bill in the waning hours of this year's legislative session. On Friday night, the House approved the measure 53-13, and the Senate approved it 24-6 after a swift 8-0 passage by the Senate Finance committee.
"There is no recourse to the taxpayers, so if we can help Pawtucket with no recourse to the taxpayers, I cannot find a legitimate reason not to do it," said House Speaker Nick Mattiello, who backed the House's plan.
The state and city would contribute $38 million in pledged future revenue to the $83 million stadium, and the team would pay $45 million.
A financial analysis released by the Senate said the House plan for the stadium would cost between $54 million and $87 million more than the original plan in exchange for removing the state backstop of funds in case the deal goes under. However, Senate Finance Committee Chair Bill Conley still pushed for passage, noting the substantial amount of hearings and public scrutiny the process endured.
"Although it is far more costly than the Senate structure, we want to give the city, the state, and the ball club a chance to see if this will keep the Pawsox in Rhode Island and create this economic development opportunity for the city and the state," he said, adding that "the market will decide" whether it's fiscally responsible to go with the higher cost plan.
Opponents argued the deal was still too risky and wanted the Pawsox owners to foot the whole bill.
"I still in my heart think that if it's a good deal, then these billionaires, by God let them do it. They can find this money in the seat cushions of their Porsches," said Representative Anthony Giarrusso.
Though the deal passed overwhelmingly on both sides of the legislature, some Senators expressed frustration that they were left with the House's much more expensive bill so late in the session.
"I am disappointed and frustrated with our colleagues across the hall in the House. They've had this bill for five months," said Senator Frank Lombardo.
The bill now moves to Governor Gina Raimondo's desk, but her press secretary said she "needs a chance to review the language" of the bill before deciding whether she'll sign it. In addition, legislators say it's still unclear whether the Pawsox will support the plan.
Both the House and Senate will return Saturday to complete other unfinished business and wrap up this year's legislative session.