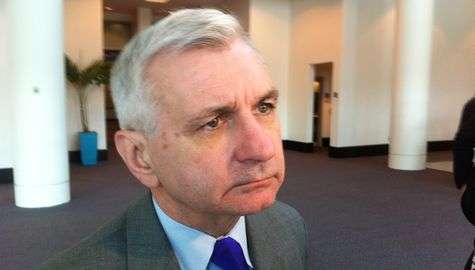 By Tessa Roy, WPRO News
Asked if he thinks the 2016 Democratic primary was rigged in favor of Hillary Clinton as former DNC Chair Donna Brazile has alleged, Senator Jack Reed said he doesn't believe it was the case in Rhode Island; Bernie Sanders, not Clinton, won the state, he said.
"The Rhode Island election certainly wasn't rigged because, you know, people came out and made their opinions very clear," he said. "I think it's not so much rigged as we have to do a better job of reflecting the popular opinions of Democrats across the country."
Reed said Brazile's charges point to improvements Democrats should make, calling her a "very thoughtful lady" who has done a "very important service of identifying problems in the party structure."
"I think what we're going to have to look at is structurally, how do we accommodate superdelegates, how do we integrate that with the popular vote?" he said. "That's a serious question and we have to work on it."
Reed also said President Donald Trump's pressuring of the FBI and Justice Department to investigate Clinton is an attempt to deflect attention from the Mueller probe.
"I think he's acting unpresidentially, not only trying to, you know, deflect attention but also to suggest a specific investigation of the FBI. That's not how our system should operate," he said.