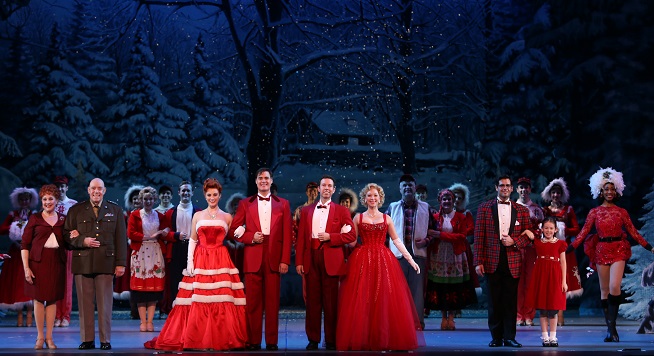 By Kim Kalunian, WPRO Arts and Entertainment Contributor
Irving Berlin's "White Christmas" is as sweet as any Christmas cookie or candy you're likely to stumble upon this holiday season.
With tunes by Berlin (including a half dozen that never appear in the movie version of the famed musical) and a syrupy sweet script by David Ives and Paul Blake, the stage version of the movie musical can at times be a bit cloying.
But if you're in the mood for squeaky clean, retro fun, "White Christmas" is the show for you.
The touring company is led by Sean Montgomery as Bob Wallace (portrayed by Bing Crosby in the film) and Jeremy Benton as Phil Davis (Danny Kaye's affable character). The Army-pals-turned-singing-and-dancing-duo hitch up with the Hayes sisters. There's Kerry Conte's Betty (played by Rosemary Clooney in the film) and Kelly Sheehan's Judy (Vera-Ellen in the movie). Together the foursome leads the audience through the better-known songs of the show, like "Snow," "Count Your Blessings Instead of Sheep," "Love, You Didn't Do Right By Me," and of course, "White Christmas."
There's also a terrific ensemble of singers and dancers who delivers a rousing rendition of "Blue Skies" and a knock-out tap number to "I Love a Piano" at the top of Act 2.
But don't go to "White Christmas" expecting to see a carbon copy of the beloved film played out live on stage. The books veers from the original plot in several key spots, which puts a significant twist on songs like "Snow" (sung by the entire ensemble, not just our four principals) and sees "Gee, I Wish I Was Back in the Army" nearly erased from the score.
It's unclear what the purpose of the changes is, but none are so drastic as to completely scrap the show's original story. Instead, those die-hard fans of the 1954 movie might have to acquiesce a bit to the idea that the original screenplay wasn't left entirely intact.
The result is a technicolor musical that will send you back in time to the days when the music was glorious, the dancing was graceful and everything was a whole lot simpler. You'll even get the chance to sing along. And if you're wondering, yes, "Providence, Rhode Island," is actually in the script!
Irving Berlin's "White Christmas" runs now through December 13 at the Providence Performing Arts Center. For show times, tickets and additional information, click here or call 401-421-ARTS.