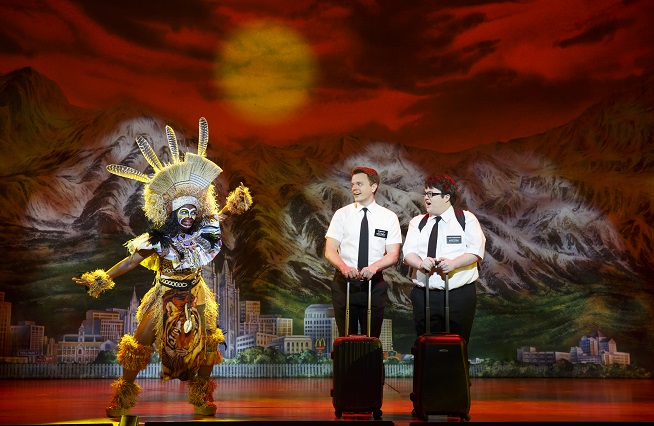 By Kim Kalunian, WPRO News
"The Book of Mormon" is back at the Providence Performing Arts Center and man is it good!
I first saw the show that's been hailed as "the best musical of this century" last spring. I remember my excitement to see what all the hype was about. This time, returning to PPAC to see it for a second time, I was just thrilled I got to experience it again.
"The Book of Mormon" is one of those shows that really nails what a modern musical should be – it's chock-full of catchy tunes and fantastic production numbers, but it's also hilarious, filthy and fast-paced. It even mocks the entire genre of musical theater, making jabs at "Wicked" and "The Sound of Music" to name just a few.
The musical's script, music and lyrics were co-written by Trey Parker and Matt Stone, the creators of "South Park." Add in, Robert Lopez of "Avenue Q" fame as the third co-writer, and you've got a trifecta that's produced a gloriously crude, laugh-out-loud funny show that uses every four-letter word in the book (yes, even that one).
The show follows 19-year-old Mormons, Elder Price (David Larsen) and Elder Cunningham (Cody Jamison Strand) as they prepare to be sent on their two-year mission. Their goal is to spread the Mormon faith and convert as many people as they can. While type-A Elder Price is hoping to be sent to Orlando, his side-kick, the aloof, socially awkward pathological liar that is Elder Cunningham, is just pleased to be partnered with Price. When the pair finds out where they'll spend their next two years, they pack their bags and travel about as far away from Orlando as you can get. The hilarity that ensues is sure to make you cringe, wince and (of course) laugh.
It's clear to me why PPAC wanted to bring "The Book of Mormon" back for an encore performance this year. So if you missed it last time it was in town, don't wait until a latter day to see it. Grab your tickets while they last!
"The Book of Mormon" runs now through November 22 at the Providence Performing Arts Center. For this show, PPAC is hosting a lottery drawing for $25 tickets two and a half hours before each show. For more information, visit ppacri.org.