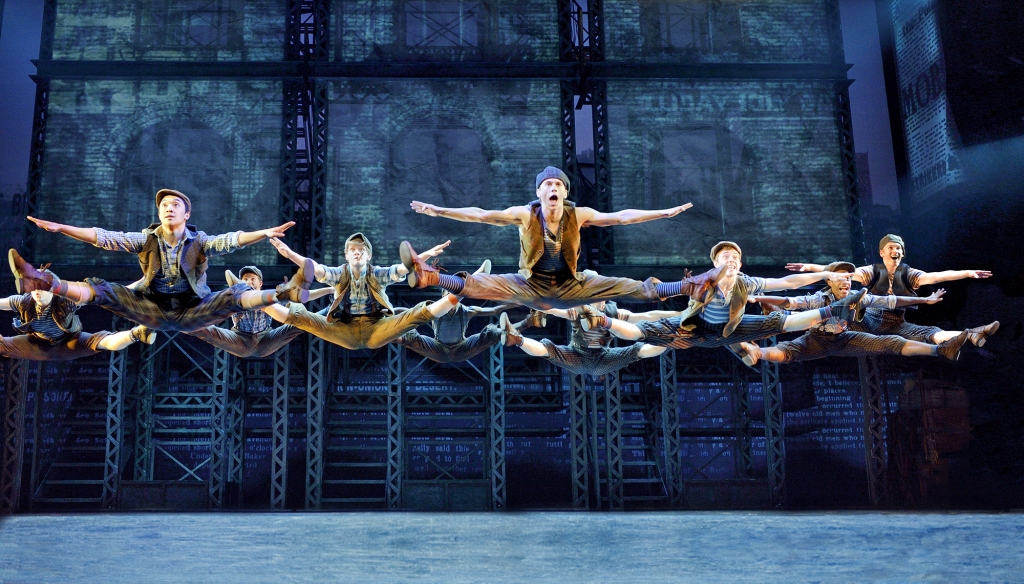 By Kim Kalunian, WPRO News
Disney's "Newsies" will back-flip its way right into your heart. With loads of toe-touching, pirouetting, leaping and even a terrific tap number, this true song-and-dance spectacular is packed with talent, catchy tunes and a heartwarming story.
The Disney film of the same name was a bit of a cult classic back in the early 1990's. It starred a young Christian Bale as the dashing leading man, Jack Kelly, played in the national tour by Joey Barreiro.
Barreiro has a wonderful voice that marries that classic Disney prince sound with Kelly's rough-and-tumble, New York grit. It's with Kelly's leadership that the newsies – the young boys who scrape together pennies by selling the day's newspapers – decide to rebel against an increase in the price of their product at the hands of Joseph Pulitzer. But the idea of a newsies union strike comes from the affable, bright-eyed newbie Davey, played by Stephen Michael Langton.
It's a classic pair in a classic tale: the brains and the brawn team up to (spoiler!) save the day for all.
The plot is all well and good, but the real magic of the show comes from the catchy Alan Menken score and the tremendous production numbers. The gang of Newsies belt their way through numbers like "Seize the Day" and "King of New York" all while deftly leaping, swiftly turning and showing off feats of strength and flexibility that would make any trained ballerina beam with pride. This ensemble of ruffians is the true star of the show, and their immense, combined talent is really something to behold.
Of course, it wouldn't be a true Disney musical without a love story, right? Don't worry. Kelly falls in love with Katherine, a society pages reporter who tries to make a name for herself by reporting on the newsies strike. It's the kind of romantic arc that goes from chance meeting to nearly-married in just a few days, but it adds to the fun.
The whole show plays out on a massive moving set of twisting steel staircases that allow the show to reach high into the vertical spaces of the PPAC stage.
Overall, if you're in the mood for a feel-good, family-friendly show with all the trappings of a Disney musical, kick up your heels and head on over to the Providence Performing Arts Center to see the national tour of "Newsies."
Disney's "Newsies" runs now through  Oct. 25 at the Providence Performing Arts Center. For tickets and information call 421-ARTS or click here.