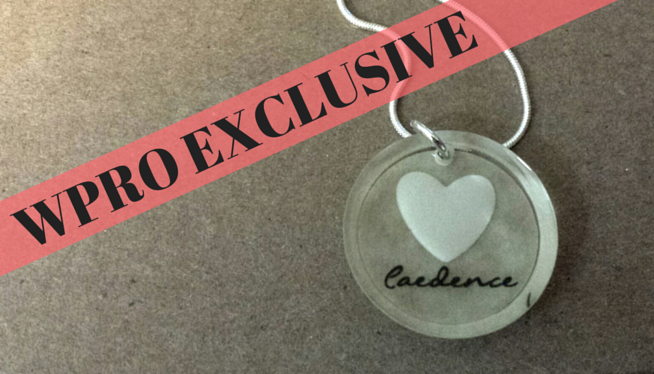 Listen to this story:
By Kim Kalunian, WPRO News
In 2013, MommyMilk Creations was riding high. Owner and creator Allicia Mogavero's business was everywhere: the 'Today' Show, Time magazine, the Daily Beast and the New York Daily News.
The idea was a novel one: send your breast milk to Mogavero's Rhode Island-based business and she would turn it into a keepsake piece of jewelry you could wear around your neck or wrist.
It caught the attention of WPRO News, too. In a 2013 interview, Mogavero, who resides in Wakefield, wouldn't disclose her jewelry-making process, but said that for $64 to $160, she would turn 10 to 30 milliliters of breast milk into a keepsake bead.
Fast forward to 2015.
Dozens of customers now say they sent Mogavero their money and their milk, but still haven't received their jewelry. Some have been waiting for years. The moms who reached out to WPRO are frustrated, angry and depressed. More than one said she felt "scammed" by MommyMilk, while others are holding out hope that they will one day get what they paid for.
Mogavero admits MommyMilk has experienced some unexpected problems, but insists the business is legitimate. While she acknowledges the lengthy wait times endured by some women, she says it's not a question of if they'll receive their product, but only when.
'This intimate piece of me was taken'
One of MommyMilk's unhappy customers, Lorraine Neil, of Maine, said it feels like someone has taken one of her organs.
"This intimate piece of me was taken," she said. "And it can't be retrieved again."
Neil is one of the dozens of mothers who shared her story with WPRO. She said she feels extremely vulnerable not knowing whether her breast milk could have ended up in Mogavero's trash.
"This is a stressful, heartbreaking situation for many," Jodi Williams, a customer from Connecticut, wrote in an email. She's another one of the moms who said they sent their breast milk to Mogavero, only to get nothing in return – no product, no refund, not even answers to emails.
Invoices and emails obtained by WPRO from the women showed Mogavero has processed their payments and confirmed receiving their breast milk. Williams sent in her $102.50 order in October 2013. It was processed, but she has yet to receive her jewelry, and calls and emails to Mogavero have gone unreturned.
Mogavero has disabled comments on her business's Facebook account, too.
In a post on Feb. 3 she wrote: "I have all private comments here on my page, I've had no choice due to unsolicited private contact to my customers, people commenting, and people I've tagged. I will not be able to respond to comments on this page due to privacy issues and the lack of the ability to tag. The protection of my customers is very important!"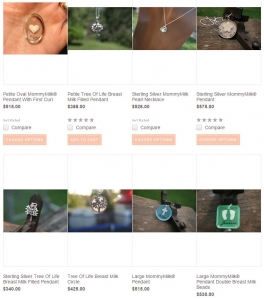 Mogavero also removed her email address from her website and said her server crashed, causing her to lose multiple emails. She wrote on her website:
"I know that the wait is very long but please try to refrain from contacting me regarding the status of your pendant. Answering emails all day, even short ones means I'm taking time away from being able to get my work done. I'm always answering questions from potential customers all day as it is, please visit my blog breastmilkpendants.blogspot.com for up to date order processing times."
Some women, like Nichole Callagee of Pennsylvania, have reached out to Mogavero on multiple occasions, but say they've been completely ignored. Others, like Michelle Schwartz of Washington, have gotten a response, but say they never received information on when their product would arrive.
Schwartz sent her breast milk to Mogavero in 2013.
"Somewhere deep down I know I will never get my milk back or the piece I ordered," Schwartz wrote in an email. "I really, really, really hope I am wrong. This type of work is so personal. She has something that came from my body that helped my baby thrive with life. And she is not showing the respect it deserves."
Schwartz said her body never responded to a breast milk pump, so getting the few drops that she sent to Mogavero was a "miracle."
"I wanted this pendant as a reminder of all the struggles, long nights, blebs (that had to get sliced open to drain), and the love between me and my daughter," she wrote.
Mogavero does note on the FAQ section of her website that shipping times vary widely, and says it could take upwards of one year to ship. But the moms said some women get their pendants within weeks or months, while others continue to wait without any idea when (or if) their products will arrive.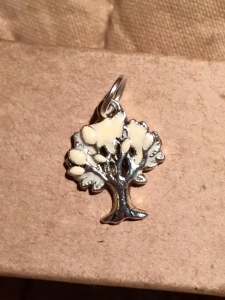 Massachusetts' Talesha Stevenson is one of the women who did receive her pendant. She attempted to breastfeed both of her children, but wasn't successful. She wanted a MommyMilk necklace as a memento of her efforts.
"I lost hours and hours of sleep and cried and cried and dealt with so much pain," Stevenson said of her breastfeeding experience. "I deserved to remember that it was worth every bit, and that I was a good mother for trying so hard when the easy way out was always right there for me."
At the time Stevenson placed her order, in the summer of 2014, the "Tree of Life" pendant she ordered was priced at $80. (Today it's listed at $388.) She waited until earlier this year for her necklace to arrive, but found it didn't look anything like the image on Mogavero's website – the milk appeared to be "spilled" across the design.
"I have since attempted to contact her via her website, Facebook, Etsy and now Instagram," said Stevenson. "I have tried opening a dispute with PayPal, but since it's past the 180 days, they keep closing it."
Stevenson and other moms who have become frustrated with what they describe as Mogavero's delays, inconsistencies and lack of transparency, have started a Facebook page to commiserate. They share their stories, their invoices, their unanswered emails and their sorrows.
"Our group has 30 members," said Kristen Dannahey, a Connecticut mother who received her MommyMilk order in July after two years of waiting. "That's the tip of the iceberg."
Recently, the moms in the group discovered another, separate Facebook group of frustrated MommyMilk customers. That group was double the size of the first one.
Dannehey thinks a "couple of hundred" women are still waiting for their MommyMilk orders.
Looking for answers
WPRO's initial phone calls, emails and Facebook messages to Mogavero went unanswered. But on a weekday this month, WPRO found Mogavero at her home in a quiet Wakefield neighborhood. A dog barked from somewhere in the large backyard, which was strewn with children's toys. A truck bearing a "MommyMilk Creations" graphic and the license plate "MAMILK" stood idle in the driveway.
After several knocks, Mogavero appeared in the doorway. When asked why her customers weren't receiving their orders, she laughed and slammed the door shut. Further knocks were met by a shout from behind the closed door: "Go away!"
Hours later, Mogavero reached out to WPRO via Facebook. She refused to speak in person or over the phone, but after several exchanges, she agreed to answer questions via online messages.
"My contact form is glitchy at times and other times I don't respond to certain messages," wrote Mogavero via Facebook. "If I receive a message that is attacking, angry or mean I delete it right away."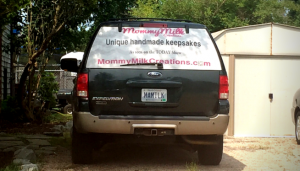 Mogavero, a mother of three, said she can't believe the amount of negativity she's faced from other mothers. She said they write vile comments about her and make death threats.
Mogavero insisted her business isn't a scam and isn't closed. She said she's just behind on filling and shipping orders.
"I'm not comfortable stating an exact number [of orders I'm behind on] if that's what you are looking for," said Mogavero. "But certainly more than I'd like."
She said the pieces take hours to craft and "take time and care." She said her website has clearly stated since 2013 that wait times can vary widely.
Despite the outcry from fellow moms, Mogavero said the long wait isn't unfair.
"Unfortunate, yes but not unfair," she said. "Unfair is unjust, I'm not being unjust I'm just unexpectedly delayed."
But the delays have some women wondering: what is Mogavero doing with their milk for close to two years? In response, she said all of the breast milk is "partially preserved" when it's received.
"It is then properly contained, labeled, then attached to the customer's original order slip and stored appropriately," said Mogavero.
She said there's no way to provide proof to her customers that they are actually receiving their own milk other than her "word and trust." But she said she has no reason not to use their actual breast milk.
Mogavero, who cites the milk's partial preservation as a key reason she's fallen behind, has also expanded her business to include jewelry made from cremated human and pet remains as well as umbilical cords.
Her prices have also quadrupled since 2013. Two years ago, her products ranged in price from $64 to $160. Now they cost $275 to $600. She said there's "no reason to underprice such a special service," and the price inflation is also meant to discourage excessive orders.
Mogavero apologized for slamming her front door, confessing to mental and physical exhaustion from dealing with the backups, delays and unhappy mothers.
"I feel bad about it, I feel awful," she said of the delays. "I'm not doing it to be unfair, it's just the way it has happened and I do feel awful. I'm not sitting here celebrating the fact women are waiting longer than they expected, it kills me."
Dealing with the heartache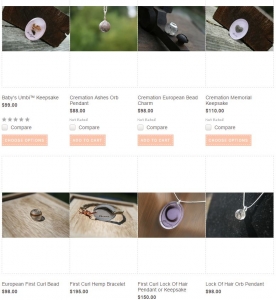 Michelle Schwartz and other MommyMilk customers who contacted WPRO said that with each passing day, they become more concerned that their breast milk – a creation of their bodies that gave life to their babies – has been forever lost at the hands of a stranger.
"It's really heartbreaking," Schwartz said through tears during an interview with WPRO. "It's really hard."
Mogavero said that once the breast milk is "processed" – something she says she does as soon as she receives it – she cannot return it, though she is willing to refund payments. For many of the women, holding out hope that they will receive their breast milk back in jewelry form is better than simply asking for a cash refund.
Amy Kempe, a spokeswoman for Attorney General Peter Kilmartin, said his office has only received one formal complaint about MommyMilk, dating back to 2014, but the case was closed when the complainant received the item.
But, Kempe said, if there are consumers who paid for items they have not received, or if they can't get in touch with Mogavero, they can file a consumer complaint online at http://www.riag.ri.gov/homeboxes/Consumer.php or by calling 401-274-4400.
For Lorraine Neil, though, it's about much more than a consumer complaint.
"This journey has been utterly heartbreaking for me," Neil said in an email.
She said she agonized and struggled to breastfeed her son, but before throwing in the towel, she pumped out a few ounces to send to MommyMilk.
"I hand expressed the last ounce of my milk and sent it to…MommyMilk Creations immediately to memorialize my trials and tribulations," she said. "What followed was months of postpartum depression and a mourning period I had never expected."
That was in 2013. She said she's heard nothing from Mogavero since.
Last month, Neil gave birth to her second child, and she's trying to breastfeed again.
"All I can think about is the loss of that last precious ounce," she said. "And what good motivation my necklace may have served as."
---
Email Kim Kalunian at kim@630wpro.com. Follow her on Twitter @KimKalunian or like her on Facebook.