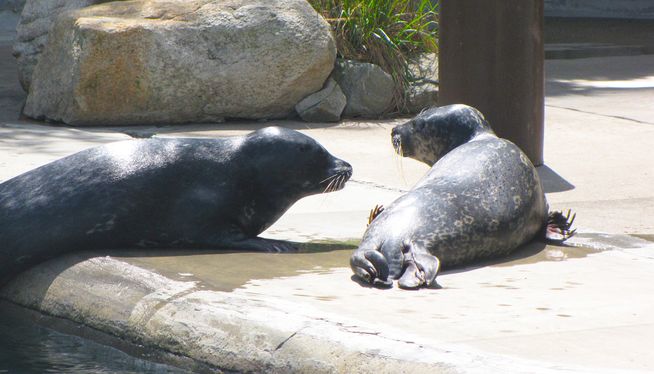 Harbor Seals Bubba and Action play around in their exhibit at Roger Williams Park Zoo. The seals have been moved to an aquarium in Niagara Falls, NY as their exhibit undergoes repairs. Photo courtesy of Roger Williams Park Zoo
---
Andrew Augustus, WPRO News
In the middle of May, the harbor seal exhibit at Roger Williams Park Zoo had to be suddenly closed after structural deficiencies were found during routine maintenance. The crew doing the repair saw a crack in the lower viewing window and proceeded to look at the entire exhibit.  After noticing a number of problems the exhibit was closed and the seals, Bubba and Action, were moved to the Aquarium of Niagara in Niagara Falls, New York.
The harbor seals exhibit is one of the oldest in the zoo.
"We anticipate it is going to be about $100,000. So we started a campaign and thought if we can get 10,000 people to donate $10 each, that will get us where we need so we can get the boys back home again," said Jan Mariani, Director of  Marketing and Public Relations at Roger Williams Park zoo.
An anonymous donor has said they will offer a dollar to dollar match, up to $50,000, for any donations that come in.
" The upper viewing area will be improved and the lower  viewing area will be constructed to create a cave-like access, making it even more fun dor kids and families to enjoy Bubba and Action," said zoo director Jeremy Goodman, DVM.
To make a donation you can visit http://www.rwpzoo.org/seal-appeal.