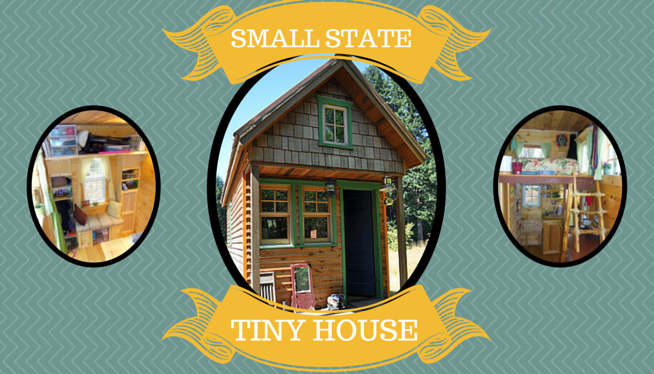 By Kim Kalunian, WPRO News
People say good things come in small packages, and for people who dwell in tiny homes, those are words to live by.
Tiny homes are houses between 100 and 400 square-feet. That's total living space. They're typically meant to be environmentally and wallet-friendly, and while they're nothing knew, they've grown in popularity as of late.
"In recent decades in the U.S., people have wanted to live in tiny homes to conserve resources," said Isa Cann of Tiny House Northeast, a professional tiny home design and building company. "They have typically been men and women who have recognized the profound level of consumption and waste that has polluted the planet. They have wanted to live differently."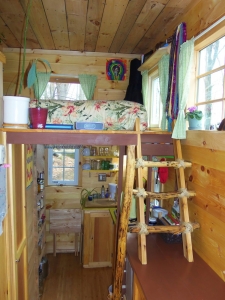 And live differently they do.
Jessica Sullivan shares a nearly 200 square-foot tiny house with her husband in Burrillville.
It's 8 by 16 feet, but a small loft gives them extra space for a bed.
While some tiny homes come prefabricated, the pair decided to build theirs from scratch, and started the process in 2013. They moved in full-time last summer.
Today, they live on an organic farm, and their tiny home is completely off the grid – they use solar power and carry in their water. They don't have an oven and instead cook on a RV-style stove top. They have a small bathroom, but there's no shower. (Don't worry, they haven't abandoned personal hygiene: they go to the local gym or shower outside in the warmer months.)
"We don't have a water bill, we don't have an electric bill," said Sullivan. "For us it costs roughly $800 to $900 a month, that's including our overhead in the house… our rent, our cellphone, our heat, our groceries."
Their bills are comparable to what Corey Towner pays for her urban version of the tiny house: a micro-loft inside the Arcade in downtown Providence. Towner's rent for her 300 square-foot apartment is $800 a month, plus utilities.

Towner, 27, said the micro-lofts at the Arcade allow her the opportunity to live in a single-bedroom apartment of her own, something she otherwise wouldn't be able to afford. Before moving into the Arcade, she shared a massive, 3-bedroom, 2-bath loft that spanned the entire fifth floor of the building she used to live in.
Even though her new apartment is a fraction of the size, she prefers it to her previous living arrangements.
"I feel like a lot of people think it would be a sacrifice, and it's really not," said Towner, perched on her living room couch that sits atop drawers used for storage. "I truly don't feel like I'm missing out on anything."
Everything inside Towner's apartment, like in most tiny homes, serves a dual purpose. There's storage tucked into every nook and cranny. There's a small table that can open into a larger one for when she invites friends over. There's a murphy bed that tucks away neatly when not in use.
Like anyone who moves into a new space, Towner has learned to adapt. Her kitchen doesn't have a stove or an oven, so she's learned to cook on a hot plate. She's even managed to bake a cake in her toaster oven, and thinks she'll probably continue to use the toaster more often even when she has a full-size kitchen again.
"It's kind of fun. You get to have these challenges that normally you wouldn't," she said.
Sullivan feels the same way, even though she shares the space with her husband (she said they don't fight very often.)
"As far as wanting more space, yeah I've had my moments," said Sullivan. "The biggest thing that I remind myself of is how often do I feel that way? And it's very rare."
Sullivan said she and her husband embrace the outdoors, but she said once they have children, they'll probably move to a larger space, but not much larger.
"I still think we'll probably be in a very small space," she said.
Towner said her micro-loft is perfect for her, but isn't sure how it would work adding another person into the equation.
"If it's just one person it's 100 percent doable, it's comfortable," she said. "If you have a boyfriend or a girlfriend I don't think this arrangement is ideal for someone in that scenario."
Tiny home dwellers – single or otherwise – also can't afford to be hoarders.
Towner said living in just 300 square-feet of space has forced her to downsize and tidy up more often.
"You have to do dishes too, you can't leave them on the counter!" she said.
She's also rid herself of anything material that isn't a necessity. She said one of the biggest reasons she doesn't want to live anywhere larger is because she doesn't want to accumulate more stuff.
While tiny living provides a unique alternative for folks looking to save money, resources and space, it's not always crystal clear how to make one's tiny home dreams a reality. For Towner, it was a luck of the draw – the micro-lofts at the Arcade are limited in quantity and usually full. There's a waiting list, but Towner was lucky enough to have signed up early and been selected.
For folks like Sullivan, finding a place to park their tiny home (theirs is on wheels) is sometimes a struggle. She says there are still a lot of "gray areas" when it comes to taxes and regulations.

"We're walking a fine line by sharing our story but this is the only way that it will get into the main light and hopefully there's some change," said Sullivan.
Cann, who said it's common for folks to put their tiny homes on wheels, said placement of tiny homes depends a lot on zoning.
"If the question is, 'Where can we park a tiny house?' the first and best answer will always be, 'Read the zoning requirements of the town [or towns] you'd like to live in before you get started to buy or build your own tiny house," she said.
Still, she said the tiny house trend is catching on.
"It seems that the northwestern states' builders are doing a steady business," said Cann. "Rhode Island folks have expressed a lot of interest…and most were prepared to build their own."