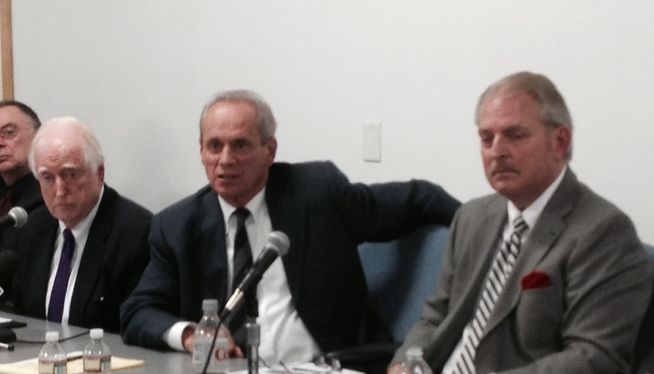 WPRO News
Over 100 people packed into a room to hear the new Pawtucket Red Sox ownership pitch their proposal for a downtown Providence ballpark to the I-195 Redevelopment Commission.
Local co-owner and team president James Skeffington and co-owner Larry Lucchino, president of the Boston Red Sox led a team of engineering and design experts to make presentations to the commission on proposed 10,000 seat, $70 million ballpark.
Lucchino acknowledged critics of the ballpark in Providence, saying he and fellow owners have not done enough to sell the benefits beyond baseball of the proposed facility.
"We're still in the early innings of this game," Lucchino said. "But we deserve some blame for not fully enumerating and illustrating the public benefits that flow from this."
"This is an urban planning asset for you," Lucchino said. "It gives you an opportunity to do something with this land that will benefit not just a baseball team, not just a downtown area, but the ancillary development that springs up around [the] I-195 land."
Skeffington echoed Licchino, saying construction of a new ballpark will bring additional development.
"This investment will be conducive to attracting private capital to invest in the development of that [land]," said Skeffington.
Before the start of the meeting, a coalition of political groups ranging from the Green Party of Rhode Island to The Tea Party expressed opposition to constructing a taxpayer funded ballpark.
"[The proposal] represents an entire group of people who have made a living leaching off the state of Rhode Island," said ballpark opponent Pat Ford of Cumberland.
"Whether it be the convention center, the mall, on and on, they used state subsidies to do it, state contracts, state connections. Enough," said Ford.
The meeting had originally been billed as a closed hearing, but PawSox owners said they asked to open it in the interest of transparency.
Governor Gina Raimondo issued a statement following the meeting:
"I would love it if the PawSox stayed in Rhode Island, and the idea of a multi-use stadium in downtown Providence is exciting. But it's my job to look out for Rhode Island taxpayers, and I take that job very seriously.
"From what I understand of the owners' initial proposal, it appears that Rhode Island taxpayers would pay most, if not all of the cost of building the new stadium, yet the owners would stand to receive all of the profits. That isn't fair for Rhode Islanders.
"We look forward to receiving much more information about alternative financial proposals, and I remain committed to working with Mayor Elorza, the Speaker, and the Senate President to evaluate whether we can find a framework with the team's owners that will benefit Rhode Island."