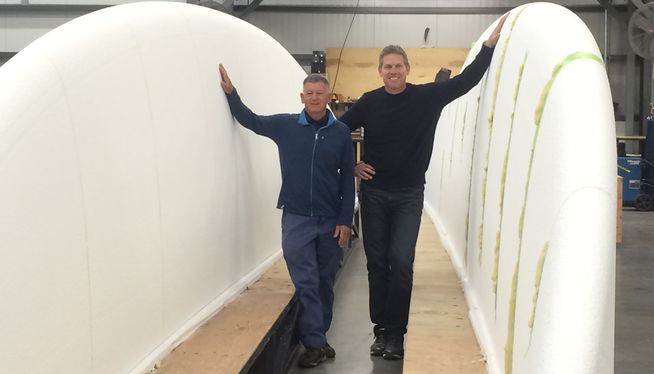 Project Manager Bob Steel (left) and President of mouldCAM John Barnitt (right) stand between two halves of the world's largest surfboard. Photo by Andrew Augustus, WPRO News.
---
Andrew Augustus, WPRO News
Bristol, Rhode Island has been known as one of the centers of the maritime world. The small town has a long history of boat building and today still has its fingerprint in the boating world.
But now, a company from Bristol is helping build the world's largest surfboard.
"We were just excited about it," said president of mouldCAM John Barnitt.
The board is being built for Visit Huntington Beach campaign where they hope to break the world record for most people to catch a wave on a surfboard.
The board is going to be 42 feet long, 11 feet wide and is designed to hold 62 people onboard.
"It's huge, it's big, we call it the big board and it is the big board," said project manager Bob Steel.
mouldCAM is doing the first part of the project of manufacturing the board. The board will then be sent out to California to be painted and finished before heading to Huntington Beach.
"These jobs, they always look smaller on the computer screen and when you see them in real life and you look up at them and you get a sense of the volume, you go holy smokes this thing is pretty big," said Barnitt.
Steel said there is already a long list of people signed up to help break the record. An aerospace engineer is working with the project to make sure the weight distribution is correct on the day of the ride.
To break the record, 62 people must all be standing on the board and ride a wave for 10 seconds.
Both Barnitt and Steel are confident the record will be broken. The record breaking ride is set for mid-June.