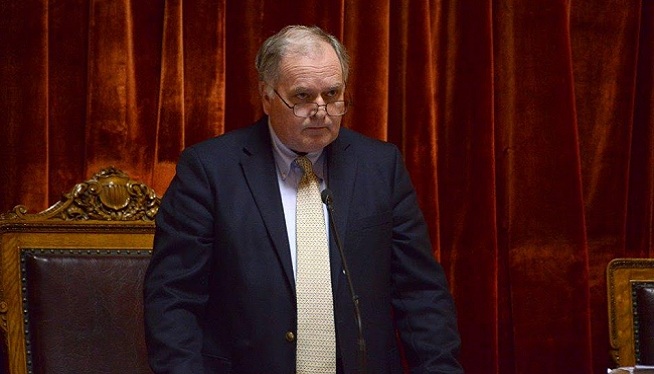 Rep. Don Lally, the Speaker Pro Tem, presides from the rostrum during a portion of the state budget debate on June 17, 2014. Photo courtesy Rhode Island House of Representatives.
---
WPRO Newsroom and the Associated Press
PROVIDENCE, R.I. (AP) – A veteran member of the Rhode Island House of Representatives has resigned, saying he wants to dedicate more time to his family and his law practice.
Rep. Donald Lally Jr. announced his resignation on the House floor Tuesday. Lally, a Democrat, represents Narragansett and South Kingstown. He's the current speaker pro tempore.
Lally was first elected in 1989 and is second in seniority among current members.
Rhode Island has a part-time legislature but Lally says his work has become a year-round commitment.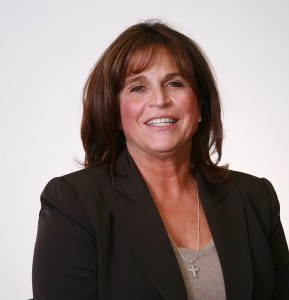 Speaker Nicholas Mattiello and other members thanked Lally for his service and told him he'll be missed. Several called him a role model.
Shortly after Lally's resignation was confirmed, Narragansett Town Councilwoman Susan Cicilline Buonanno (pictured at right) announced she was running to replace him. Buonanno is Congressman David Cicilline's sister.
"I'd like to thank Representative Lally for his dedicated service to the people of District 33, and to our state," said Buonanno in an email statement. "Public service has always been very important to me, that's why I have always found a way to be involved in my community, and with the endorsement of the voters from our District I hope to continue the progress made by Representative Lally. I am excited to share my vision for our district and our state with my neighbors and to be a voice for those who cannot speak for themselves."
Buonanno served on the Narragansett School Committee for three terms and is currently serving her fourth term on the Narragansett Town Council.
Read Lally's full letter below: 
Dear Mr. Speaker and Members of the RI House of Representatives:

As you may be aware, I have been deliberating on whether or not to continue in my present position as Rhode Island State Representative for District 33.  I decided that it is time for me to step down, effective immediately, as Rhode Island State Representative for District 33.

I decided to run for re-election in 2014, given the circumstances of last session, to do what I could in my leadership role to see that the House would stay on task.  Mr. Speaker, I am confident that you will continue to lead the House and the State of Rhode Island to more prosperous times. 

I have served my district for over 25 years and my constituents in Narragansett and South Kingstown deserve to have a representative who has the enthusiasm, energy, commitment, and burning desire to represent them throughout the entire year.  This legislative body is not a part-time legislature.  It has become a year-round commitment.

We have two children:  Jessica, who attended the University of Rhode Island for four years and is now finishing her second year of a Doctorate program in Audiology at the University of Connecticut;  Our son, Connor, is finishing his first year at the University of Rhode Island in Business.  I need to dedicate more time to my law practice.

Recently, I lost both of my parents and it led me to reflect upon how important family truly is.  Few people realize what a commitment it is to serve in the General Assembly.  My wife, Sandi, has supported me in my endeavor to represent the constituents of District 33 and we have done the best we could to balance the commitment of this office with the responsibilities of our family.  As Chairman of Judiciary, I gave my son's Little League schedule to my secretary so she could schedule around it for committee meetings.

I have truly loved being a part of the legislative process, whether it was in teaching new members how to navigate the system; reaching across the aisle to work with the Republican members; or working within my own party.  They say that good legislation is like making good sausage… but you do not want to see how it is made.  I have always enjoyed rolling up my sleeves and getting involved in making the "sausage".  Maybe that is why I stayed so long. 

During my tenure, I have met colleagues who will be friends of mine for life.  Some of the finest people I have ever met, with few exceptions, have been in this House, the Senate, and the Governors' offices.  The time has come for me to move on. 

I want to thank you, Mr. Speaker, for allowing me to serve on your leadership team.  To my fellow members in the House, both past and present, as well as my constituents over all of these years, it has been an honor and a privilege to serve.

Sincerely,

Representative Donald J. Lally, Jr.

33rd District