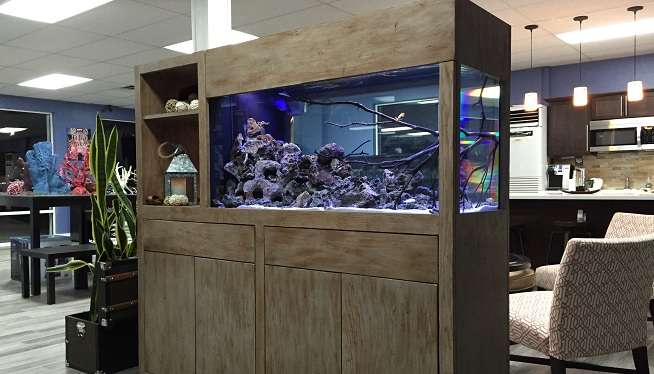 One of Something Fishy's designs for aquarium furniture to be sold in Jordan's Furniture. Submitted photo.
---
By Kim Kalunian, WPRO News
Kurt "The Fish Guy" Harrington is hoping his new partnership with Jordan's Furniture will create an aquarium for every taste and budget.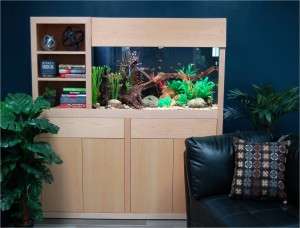 Harrington is the CEO of Warwick-based Something Fishy, an aquarium design studio. For the past 30 months, Something Fishy and Jordan's Furniture have been working to develop a partnership to bring aquarium furniture to the masses.
He says right now, people only have two options: go to a pet store to get a standard fish tank, or spend upwards of $10,000 on a custom-built aquarium.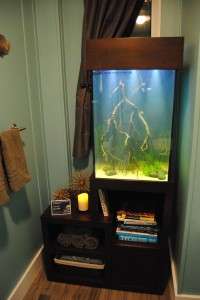 "If you wanted to just go look at nice furniture pieces that hold an aquarium, it doesn't exist in the market today," he told WPRO News. "We filled that void by designing, developing, manufacturing, and now selling – through Jordan's Furniture – aquarium furniture in the price range of $2,000 to $10,000."
Despite the lower price tag, Harrington says all of the aquarium furniture will be hand crafted in Rhode Island.
And they're not just fish tanks. Harrington says the aquariums are functional pieces of furniture that can hold towels in a bathroom, china in a kitchen or dining room, or office supplies in commercial settings.
The furniture can be seen in Something Fishy's showroom on Jefferson Boulevard in Warwick, and will soon be in Jordan's Furniture.
Harrington says they're launching a pilot program in Jordan's on March 3 at the Reading, Mass. location. He says he hopes to have their furniture pieces in all of Jordan's stores, including the Warwick store, within 90 days.